By Edmund Chilaka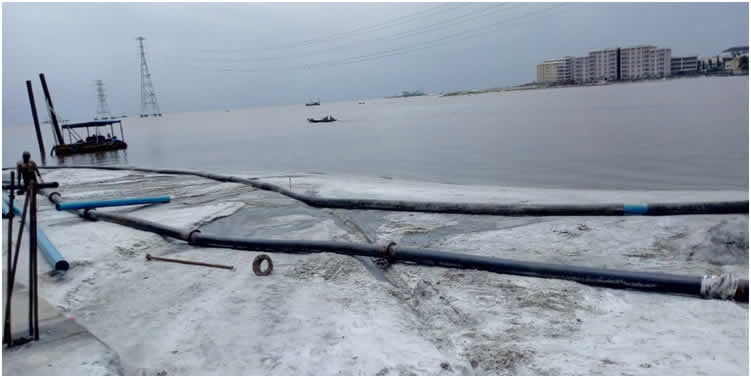 Chinese dredgers, from 8-inch to 12-inch, have become the popular choice of many small- and medium-scale Nigerian dredging operators who stockpile sand for sale or reclamation. At this site in Banana Island, Lagos, only two large European dredgers are in sight whereas more than five Chinese dredgers are busy pumping sand. The busy dredgers are reclaiming the shoreline for many high-brow residential properties and estates which are springing up in this top-end real estate where some of Nigeria's richest people live.
The dredger in the picture is an 8-inch Chinese dredger with extendable ladder length up to 35 metres. Usually the pumps are all suction as opposed to the cutter-suction model of most Euro-American dredgers. Although the magazine was informed by an operator that reclaiming the shoreline area of approximately 20m x 120m might take about three weeks to one month, depending on availability of the filling sand that abounds in this terrain, he was not certain the time it would take the same machine to reclaim a very large acreage. According to him, it could take the small dredger one year or longer to accomplish the task which, regardless, Nigerian operators seemed to have accepted because of the very low financial hurdle it offered to enter the relatively lucrative industry.
Eight-inch Chinese dredger are now being built in Lagos for N7m (approx. $19,500) while a 6-inch version will cost N6m (approx. $16,600). The same machine costs about the same at Aba in the South-East or Warri and Port Harcourt in the Niger Delta, where the Chinese dredging technology has also been acceptable hook, line and sinker. At the average cost of sharp sand, about N1,200.00 per ton in Lagos, the operator stands a good chance of recouping the dredger's cost in the first and second project, leaving many more months of operation with high profit margins, if good maintenance of the equipment is ensured.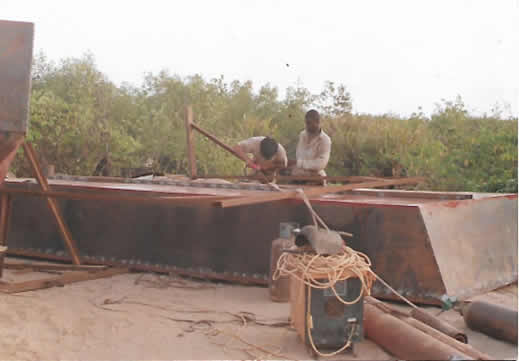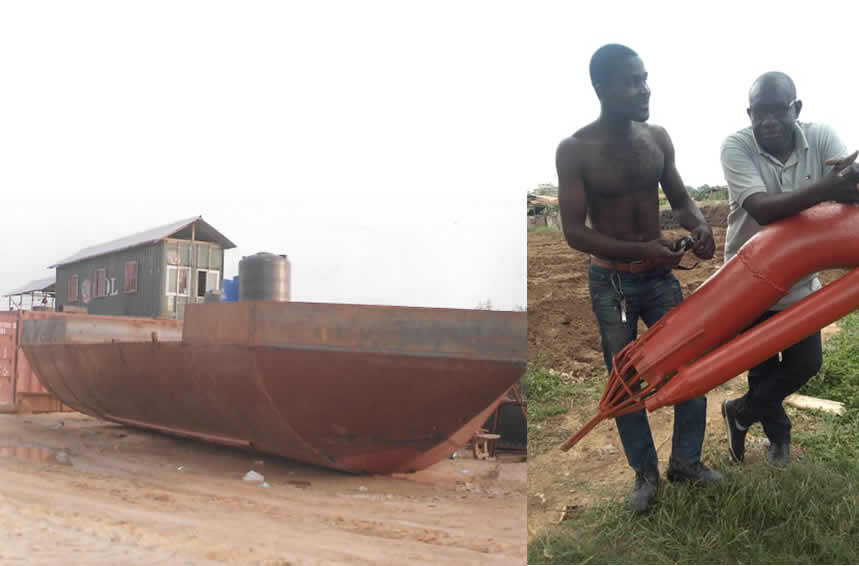 Top: A sand transporter under construction. Left: A Chinese welder working on the pusher dredger in Lagos. Right: Two Nigerian engineers who build and launch Chinese dredgers locally and in West African countries.