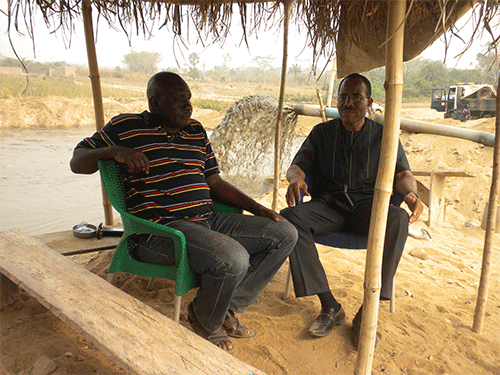 Mr Kunle Shodipe is one of the notable dredging operators in Nigeria with an enviable bank of experience spanning over twenty years. Currently working as the dredging manager of Shiroko Mining Company, Abeokuta, he is keenly sought after by many dredging companies for advice and consultancy on dredging and sand mining issues. In this interview, he dissects the Abeokuta sand market and compares the growing industry to the larger Lagos market. Excerpts:
DDH: How is the sand market in Abeokuta and Ogun State generally?
Mr. Shodipe: The sand market in Abeokuta is not bad at all because it has been the major source of fresh water sand [supply] to Lagos. When I say fresh water sand I mean sand without [salt], or with very minute salt content. So far, the Lagos market has been the major outlet in terms of consumption. Majority of the people buying from us are from Lagos, on average about 70%.
DDH: What about the cost of trucking?
Mr. Shodipe: It might amaze you to know that the cost of buying the sand here in Abeokuta is even cheaper than the cost of haulage. I will give you two examples. This morning two tippers came in here to buy sand and they came all the way from Agbara and what they came to buy was just like ten tons. They are taking it all the way to Agbara, OPIC Estate. That tells you how attractive the market is. And all this market is centred around the Ogun River and its surrounding flood plain. The burrow pits are usually located around the flood plains of Ogun River or directly in it. You see, when you are in the construction industry and you want cast pillars for bridges, skyscrapers, building a filling station, you've dug the pit, you put the tank in and you want to put sand in, it is the Ogun river sand you put in. You don't put the local sand you dug out from that pit back into that pit because if you put that in, what happens? Erosion takes place faster. And when erosion takes place and corrosion takes place, it eats up your tank under five to ten years. You will now see water seeping into the tank.
DDH: But if it is Ogun River sand…
Mr. Shodipe: I will give you one very good example. On the dredger, we have the wire we use for the winch. Ideally, if it is in Lagos, when I was operating the other dredger in Lagos, we were changing that wire every two months max. Four weeks, six weeks, maiximum eight weeks, you change it. But the one I've got in the dredger here for the last seven, eight months now, is what am still using, because there is no corrosion.
DDH: Because of fresh water?
Mr. Shodipe: Yes, the fresh water. The body of the dredger is constantly fresh. The paint it came out with from the boat yard is still intact. Those are the major advantages of Ogun state to Lagos.
DDH: How much is the 10-ton truckload?
Mr. Shodipe: It goes now for close to N8,000.00 because this is the low season.
DDH: With transport?
Mr. Shodipe: No, just the sand. We sell only sand. How you get your truck to come and load is your management.
DDH: On the average, how much is trucking?
Mr. Shodipe: It depends on where you are coming from.
DDH: If you are going to Lagos?
Mr. Shodipe: If you are going to Lagos, it again depends on where you are going to in Lagos.
DDH: When you talk of the government agencies, incidentally you have experience of the agencies calling the shots in Lagos state. Here what are the government agencies you have to deal with?
Mr. Shodipe: The same thing like in Lagos. The Federal Ministry of Mines and Steel Development (MMSD), you go to get your cadastrals right, you pay what is due to them. In addition, NIWA. Luckily Abeokuta has just been upgraded as an area office, only last year.
DDH: Only the two, no others?
Mr. Shodipe: Coincidentally, that's what the law allows because it falls into an exclusive aspect of the constitution, so you don't just pay to any Tom, Dick and Harry. On the issue of the local government, you pay what is called tenement rate, that is, for the land you are using. That is different. For the mining proper, what the law allows is MMSD and NIWA.
L-R: Kunle Shodipe, Dr. Chilaka, during the interview. In the background is sand slurry being pumped by the company's dredger from the Ogun River.

DDH: But as an operator in the field, do you encounter community issues as you do in the Niger Delta and many other places?
Mr. Shodipe: Community issues are always there. Luckily, in Ogun State, the communities are good. They cooperate because they appreciate that your dredging is bringing some activity to their community. They accept that and they accommodate you. In return, dredging companies are supposed to do some of these community services like corporate social responsibility. If they don't have water boreholes, you can provide borehole for them. If they don't have a police station, you can construct a police post for them. As long as you are working there, they are supporting you, you are having peace of mind, you are supposed to support the community. That is the good thing about it. Unlike other states where I have worked where you see a little bit of hostility, Ogun State is the opposite, it's more peaceful.
DDH: Incidentally, you spent a lot of years in Lagos and have a lot of experience. From what you are saying there is no comparison between Ogun and Lagos state in this regard?
Mr. Shodipe: No, there is no basis. I will give you a good example. I remember the experience I had working in the Agbara axis last year in Lagos. I took a 26-inch dredger there, Aduni, belonging to Babs Allan Nigerian Ltd. I was then the project manager. I got into that community and we tried to do due diligence, got the NIWA permit, got MMSD on our back, and then got the owner of the land to give us his own bill to pay. Before we turned to the aspect of dredging, the community came and said before we start anything, we should come and see them. We thought it was a joke. Before we realized it, it was a major issue. The community came with their own bill and it was a fixed rate. What we paid to MMSD, NIWA and the land owner combined is exactly what we are asked to pay to just one community in addition to those other costs. Of course, we had no other option. We wanted to operate. We took the pains and paid the bill and got into the place to work. But before we knew it, we worked so much there, we couldn't sell. There was no market to buy. And the community that was telling us they would assist us with marketing, no assistance was coming. But before we finished pumping, the community was there to collect their own due again, in addition to what we have paid en bloc. And it is so organized that they have their own community lawyer, they have a committee in charge of dredging and all those stuff. But the good news is that today drive through that area, you won't see one dredger working in that area, because the community has effectively killed the interest of dredger owners. They feel that all dredge owners have money and they are making so much money. Tippers are coming in. They don't look at the cost to you. But today as I talk to you, not one dredger in that community.
DDH: Despite the fact that they have sand?
Mr. Shodipe: Despite the fact that they have sand that can be mined.
DDH: So the word got around since the industry is a small industry?
Mr. Shodipe: It's a small industry. Communities are there begging you. If one person is troubling you, you just move your bags and baggage to the next place.
DDH: So quite a few Lagos communities are like these because of the feeling that dredgers have a lot of money to be made?
Mr. Shodipe: Unfortunately, all the communities I have worked in in Lagos, I have never seen anyone that is friendly. Maybe closest to the one that has been friendly I would say is Ijede. They are tough but I came in. We worked there through a very powerful source, so the rate of resistance to us was limited. I also must confess that the Ikorodu axis has a good network. They have seen what dredging can do to a community. But every other community is somehow. But they don't know that with this kind of hostility, it is only the strong-willed investor that will decide to stay. Most of them will run away.
DDH: It seems some of those people are coming to Ogun State?
Mr. Shodipe: Yes, Ogun state would be able to accommodate them but unfortunately Ogun state has a limit. For you to settle in Ogun state, it is either that you have a dredger that is maximum, maybe 10 inches Toyo pump or direct suction like these Chinese ones we are constructing.
DDH: Not cutter suction?
Mr. Shodipe: Cutter suction [dredgers] would not really have too much room to operate here because it swings. It hasn't got much room to swing [here] because the water is not that flexible for them, coupled with the fact that there are a lot of rocks in the water which would not be good for their cutter teeth. But if it is suction, it just sucks the sand around the rocks and leave it there. The cutter would go and hit the rock and if the teeth are not hardened for rock mining, before you know it, one or two teeth will break off and all those things. Those are the small issues.
DDH: So, for this area, mainly 8-inch to 10-inch dredgers with suction capacity…?
Mr. Shodipe: If you want to bring in 12-inch cutter suction dredgers here, if you think of the headache of dis-coupling it from Lagos and bringing it here and coupling it before you manage to deploy it to the water, you will be discouraged. Eight-inch and 10-inch dredgers you can use a Hiab Truck to carry. They are very flexible. Majority of those operating in Ogun, say 80%, are these 8-inch, 10-inch dredgers. But another flexible thing about Ogun that might interest you is that certain areas here don't need a dredger. At off-peak seasons like this, if you have excavators, you just go to the Ogun river flood plains and you can just excavate the sand directly.
DDH: Where you don't need dredgers?
Mr. Shodipe: You don't need it, in off-peak seasons like this. Except when the rain comes, that's when you can't go there. And the beauty is that when the rains come, all those places will be replenished. The rate of replenishment of the river is fast. Since we came in here, it's the same fringes we have been dredging in.
DDH: What is the business plan of your company, Shiroko Mining Company for this area?
Mr. Shodipe: Basically, it's a small scale dredging industry, which we shall gradually grow to the height where we intend to be a major player in the industry as regards sand mining in the state. Now, we are starting on a small scale. We intend to improve on our last year's status and possibly see how we can get more machines to join the fleet.
DDH: What is the size of your land holding for the business?
Mr. Shodipe: For dredging activities, we have over 13 acres. We are just exploiting a very small part of it now.
DDH: What is the competition like, the size of the supply market? How many dredgers and dredging companies are jostling for the customers?
Mr. Shodipe: I belong to the school of thought that believes that the market is big enough for everybody. We have always worked along that line. We are here in Mile 8, just one dredger. If you go three kilometres downstream, at Obba Olokor, you have over twenty dredgers there, although out of the twenty maybe ten are not active because of one thing or the other. Most of them are on lease, one technical problem or the other, management problems, etc. Because you don't expect me to go and use N1 million or N1.5 million to hire a dredger every month and you get here and by the first month of production, I have not even done N400,000.00. And you think I will pay another N1.5 million at the next month end. It's not possible. Coming back to the question you asked, the Ogun state market is a funny one. The main season is during the rainy period, anything from March, I suspect it will improve. March to November. Then from December, January and possibly some parts of February, it's a no-go area.
DDH: Because sales are low?
Mr. Shodipe: It's very low. If you don't prepare, if you don't do your strategies very well, and prepare for that low season and you think it's an all-gold period, you will be so shocked that before you know what is due, you are offline.
DDH: It seems the management has to make provision for this and not the technical man in the field…
Mr. Shodipe: Talking about salaries now, if you are the kind of person that decides that ok, at the end of the month, it's from what you sell that you will pay your crew their salaries, then you will have problems. Because at the season when you have surplus, you should be able to make provision for at least three months so that when this period comes, there is a fixed money in the bank [for salaries].
DDH: But for operators leasing the dredger, it would be tougher here, won't it?
Mr. Shodipe: When you talk of lease issues, it becomes complicated. Unfortunately, most of our people are not thorough in their business plan. Yes, because you see Mr. Kunle Shodipe dredging here, one million tippers coming to his sand field, and you feel that Mr. Kunle must really have a lot of money. But you have not cared to ask him, I see a lot of tippers coming to your sand field, why are you still sweating, using towel instead of handkerchief to wipe off the sweat on my face? (General laughter). Because I know am sitting on top of big trouble.
DDH: So, it's safe to say that once you are coming into a market like this, you should make provision for gestation?
Mr. Shodipe: In fact, it's the key word. Minimum of six to seven months. Don't expect a dime from the project [during that period].
DDH: In view of the fact that the whole 12 months of the year may not be profitable for sand sales, would you advice that dredge leasers should perhaps lease for nine months in the year if they are coming to mine sand at the Ogun River?
Mr. Shodipe: The beauty of the Ogun River is that I don't even advice any client to lease a dredger to come for this kind of operation. If you are coming for this kind of operation be prepared to own your own dredger. Leasing of dredgers could be for specific jobs such as, if you have a land to reclaim, you have a specific job you have to do for a particular client, you can lease a dredger. But for stockpiling sand in Ogun state here, Ogun is still a localized market. So you have to be technically-savvy before you can survive here. Even with all the connections we have here, we are still going through a lot of pressure.
DDH: But if you have made all the arrangements, it's a good place to operate?
Mr. Shodipe: It's a sure good place I would advice anybody to operate in if you have got a good site to operate. Particularly my friends in Lagos, I always encourage them to come because if they taste Ogun, they won't want to go back to Lagos.
DDH: Who are the major consumers of sand in the Abeokuta sand market?
Mr. Shodipe: From my own study here, Ogun is not like Lagos where you have so many sources consuming sand for multi-million Naira projects. In Ogun here, it might surprise you to know that the government awards contracts for road constructions. But because the state is so blessed with solid mineral resources, if you want to do filling, you go down to one hill and pack laterite free of charge and go and dump there and you are home and dry. In Lagos, it's not easy to get laterite. That's why you use filling sand. But in Ogun, it's not like that. Basically those people consuming our sand are usually the people constructing houses and many houses are being constructed every day. So, it's basically what you call the Ogufe tippers, they are always the market pointers for me. When they keep rushing in, it means the market will improve because very soon you will see what they call the MAN Diesel [trucks], the small 8-ton types, following them, before you see the massive 20-tonners and 30-tonners coming in. Some of my customers go to big places like Obasanjo Library and similar places where constructions are taking place.
DDH: Or Covenant University?
Mr. Shodipe: [Trucks supplying] Covenant University are not coming to us but one site near us.
DDH: And in Lagos, one is used to have NIWA, MMSD or the state agencies come to disturb operations for one reason or the other. How is the relation with the agencies here in Abeokuta?
Mr. Shodipe: Fortunately also, in Lagos, if your papers are right, Solid Minerals [Ministry] will not come and disturb you, and even NIWA will not come and disturb you. In Ogun, once your papers are not right, they will come after you. They even have their police. They have the right to ask the police to make arrest.
DDH: In Lagos they have agencies such as Ministry of Waterfront, Energy and LASWA, etc. What does Ogun State have in their place?
Mr. Shodipe: Ogun State, at a stage, had what they called a Dredging Consultant, he was going round. But I think they were effectively briefed. The policy is a straightforward one. And I know there are issues in court between NIWA and Solid Minerals, who should collect royalty. For today, NIWA is collecting and Solid Minerals is collecting. Everybody is sticking to his gun. But I know that eventually this issue will be resolved in the High Court so that we know who to pay to. That is on one hand. The same thing is applicable here in Ogun State, you have no alternative but to pay to the two bodies.
DDH: Are there state agencies?
Mr. Shodipe: The State has not waded in to that extent because the government here is very organized. Don't forget most of the legal luminaries are from this state. They know what the law says and so they can interpret the law in their own state, and know how to advise their government.
DDH: What is the situation in Lagos, I know you are still monitoring it?
Mr. Shodipe: Talking about Lagos, I heard they asked them to stop. The situation is not clear.
DDH: There was a time the Ministry of Waterfront had dredging activities taken from it to Ministry of Energy. Do you know the current situation?
Mr. Shodipe: The Lagos situation is still a confusing one. I have worked in many states, Rivers, Bayelsa, Delta… But there is no state I can compare to the confusion in Lagos as pertaining to dredging. And that state requires a lot of dredging activities to survive, unfortunately. I mean, I listened to the interview of [former President] Obasanjo this afternoon. And he was saying that while they are busy reclaiming lagoons in Lagos, Ogun state has solid ground for them to do their farming. The ex-President was correct in that because most of the land they have in Lagos needs reclamation so I don't know why there's so much confusion about that sector. Unfortunately, people sit in government and think dredging is an easy place, you just go there and make money. They don't know what it takes to even survive in the industry. I know a lot of dredging companies in Lagos that have not paid their workers' salaries. Not one month, not two months. It affected me in the last place I worked. I had to stop. It was not as if the money was there and the company was not paying. The money was not coming. The market was collapsing right before everybody's eye. Yes, the market was collapsing, the price was crashing and it was good for the consumer and the consumer was able to get the product for next to nothing. But that does not explain the fact that the royalties we were paying were still intact. The government agencies were not ready to listen to you whether you were making money. If you don't pay, we arrest you. It is not good. We should work hand in hand to know how to solve these problems.
DDH: Still talking about the Lagos market, people are agitated about the Chinese factors in the market. What is your take?
Mr. Shodipe: To me, I totally support it. Why? The Chinese have succeeded in demystifying what a dredger really is. When I started dredging way back 20 years ago, I remember then when you talk of a dredger, it was a minimum of about N400m; for even a dredger that was 30 years old, $1.4m, etc, etc. I remembered they started bringing it down. The cheapest I got in my calculations then when I was still a dredging consultant was about N65m for one of my clients. I was so excited that I had reduced the price of a dredger to N65m for a scrap he was going to buy.
DDH: Fairly-used?
Mr. Shodipe: Not even fairly used, complete scrap he was going to buy and I was going to ensure that before we spend another N10m, we should be able to make it start managing to bring out some sand. Eventually, I think that dredger sank, not from me. Somebody else bought it and it sank overnight. Now, the Chinese came from nowhere and brought this very funny technology. If the concept of a dredger is to mine sand from the water and take it to the surface, we can do it like this and like this. Before you knew it, we started. You have one mother dredger, you have one shore dredger to blast the sand from the shore to the dump site, and you have over 5 transporters in a total package of about N25m, N30m. Why will I not say the Chinese technology is good? The beauty about it is that in terms of the environment it is a fantastic concept. As far as 1km, 3kms, it can pick the sand and discharge straight to the shore. It doesn't need to stay very close to the coast and destroy the coastline. It goes offshore, over 3kms, 4kms. So, when the Chinese came out with this master piece, before I knew it, am also constructing it for people. At least, the one am using here, I constructed it myself. It's a straightforward thing. Anybody can just sit down do the design and simply go ahead and it works. And that's why the big companies now in Europe are licking their tongues. If I have money to acquire a 24-inch dredger now, I would go to China and buy it. I won't go to Europe, I won't go to America, I would go to China. I give people example of Aduni which I worked with in Babs Allan Dredging. That dredger was a fantastic dredger, far better than most dredgers I worked with. It went to Ijede and worked there, where all those European dredgers couldn't work, they couldn't break the clay content. But Aduni was there and worked successfully there and since it left, no other dredger has got there and succeeded. The burrow pit she left is where the Chinese are mining sand from till now. So, that is the thing, the Chinese technology is cheaper. And the 26-inch dredger I worked with, if it was to be built in Europe, it will be three times the cost. So, like I said generally, the Chinese concept is a good one and a wonderful idea. It has done a great deal to the industry in Nigeria, cost-wise and the beauty about it is the mobility. If you go to the East-West Road construction that between Ughelli and Port Harcourt, you will see that as the road is being constructed, just along the line, it is the 8-inch and 10-inch dredgers that are being taken by Hiab Trucks into the local creeks there and they will heap the sand along the road. So, they don't need to go 50 kms away to go and look for sand to come and supply. If you go 1km, 2kms along the road, you will just see the sand for them to construct that road. You cannot be mobilizing and demobilizing the big dredgers that way. In the next three months you have not finished mobilizing and demobilizing them. But these Chinese dredgers, if you get them this evening, you push it into the water tomorrow morning, by tomorrow afternoon it is already pumping. If it is not effective, you bring another one, dump it inside, it is working. The master piece is the engine configuration. If the pump is defective, you bring another pump to install. In less than three hours, it is pumping. If the engine is faulty, you bring a Hiab, jack it up and throw it away. In fact, you can cause it as an anchor. Bring a new one and put it there. So, even if it is a major problem, in two days max, you are through. Whereas these big dredgers, I know of instances where we had pump on the ladder, and it cracked. The next two months, we were still expecting it from Europe. Meanwhile, salaries are still going on. So these are the issues. The new Chinese dredger we bought had two pumps, one in the engine room, one on the ladder. The one on the ladder got cracked. What was the solution? While we placed order for it, the engineers bypassed that pump, connected straight to the engine room, and the dredger began working, pending when this other one will come. But if it was these big dredgers, once it is cracked, forget about it, you have to wait for them. They will tell you they want to cast the mould, they will go and look for the mould number! On top of that they are supposed to air freight it to you, which will take almost two months. So, what is the big deal there?
DDH: So these are the major issues in the market why the market tilts towards them?
Mr. Shodipe: Yes. Because Nigerian investors are not ready to spend their money anyhow. The era when people sit down and buy ten dredgers is gone. Now people are serious where their money is going to. And the Chinese are encouraging people to come.
DDH: Do you think this trend is encouraging other companies such as Geepee Industries to make hoses, pipes and accessories?
Mr. Shodipe: Their own is long overdue really. I know how many Chinese companies are calling me on the net to come and buy their pipes. In one company, (names withheld), we had issues with pipes. We were trying to get pipes to buy from China, and got an Italian company that came to show us where we could buy from. We started the arrangement to buy from them, waited long to arrange the funds. But all these things am talking to you, Babs Allan was also seriously seeking for pipes, but the pipes were not there. He was also thinking of the headache of buying from America or from China. So, that is where companies like Geepee can play a very good role. What is the role here? They have all the technical know-how to do this. So, coming into the market now, all the [dredging] companies need to do is just to go to them, discuss what they want and they will prepare a mould for them and do it. They will get good market in Nigeria. The advantage is that it will look like what happened to the Chinese. People were formerly making mockery of their [Chinese] design. It happened also in the dry plant industry, with their pay-loader. People were saying all sorts of things. But today, I can assure you out of a hundred companies buying pay-loaders, 90 of them are from China. Nobody goes to any other company. So, once Geepee Industries come in with their pipe design, you can be rest assured people will go for them.
DDH: Right now, all the pipes are imported, true?
Mr. Shodipe: Yes, all, even floaters. If there problems, they can come to the field and make corrections. That is the advantage having a local company manufacturing it, and I believe they have the ability. Because look at the tanks they are producing, they are durable. I don't have fear. When they do pipes, they will not regret it. A lot of dredging companies need pipes. Most of the pipes in the market today are fairly used pipes. So, if a company knows that it can go to a company and place its order, why waste its time? They will supply you and you pay and take off.
DDH: A lot of these market developments seem to be a fall-out of the scarcity of foreign exchange…
Mr. Shodipe: Yes, you have no choice but to look inwards. Even people are now coming from neighbouring West African countries to ask us to build dredgers for them, the small Chinese fabricated dredgers. I get orders from people. It is a good sign because we Nigerians can easily adapt to the Chinese pattern. We are doing very well on that because if you go to a place like Ughelli, these dredgers are pre-fabricated and kept on the roadside for sale. As we speak, they are fabricating 8-inch and 10-inch pumps. The durability is guaranteed because major dredger companies especially in the East, it is Ughelli they buy their pumps. Winches that we use are fabricated locally in Ughelli. What am trying to say here is that the technology has already been transferred. It is because it is Chinese design which is just direct. A layman looks at it…. But a professional looks at it and say ah, this I can do, and they will go and sit down and start to construct it. And before you know it, he is home and dry. This is the way to go, especially if investors think about their foreign currency component. It is better to look inwards where you can use your Naira to get something reasonable. The beauty of it all is that everything is in-house, particularly in the dredging industry. You mine the sand locally, you don't have any foreign component. Your engine has problem, you go to the market and get it to buy. So, the economy going up and down should not affect it.