By Edmund Chilaka
Dredging International Services Nigeria Ltd (DISN) began operations in Nigeria in 1991 when the industry had fully formed with assorted services available. As a multinational dredging firm with 175 years' experience, according to its website, Dredging International NV (the parent of DISN) was established in 1974 out of the "dredging division of Ackermans & van Haaren (founded as early as 1852) and Société Générale de Dragage". Company data say that it possesses over 90 dredgers actively involved in all continents on the "construction and development of harbours, artificial islands, estuarial dams, canals and inland waterways, dyke construction and reinforcement, beach replenishment and coastal protection, supply of dredged aggregates and salvage activities."
In Nigeria, DISN set up offices in Lagos, Port Harcourt and Bonny to oversee active project sites in Lagos, Port Harcourt, Bonny, Bayelsa and Warri. Their deployed equipment includes hopper and cutter suction dredgers, heavy lift jack-up vessel, survey tug boat and other types of work boats, and dry earthmoving machines. Some of the major intensive projects the company has achieved include the dredging of the Escravos channel (2018), the large land reclamation for the building of the proposed Yenagoa Airport (2014), Maiyegun Waterfront Development Lekki, Diamond Island Ikoyi, NLNG Marine Loading Arms Replacement, Lower River Niger Dredging Lot 2, Onne Port Development, and the largest Nigerian reclamation dredging project, the Eko Atlantic City, completed in 2016 on the spot where the problematic Bar Beach once stood. The story of this transformation is worth retelling.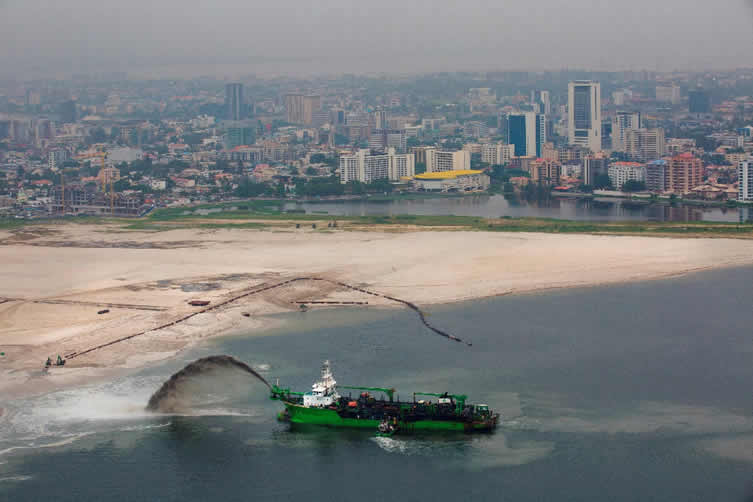 For, although the dredging industry in Nigeria was in full swing by the 1990s when DISN joined the scene, some of the intricate problems requiring marine solutions included the Bar Beach ocean surge which worsened in the 1990s. Some experts have traced the origin of the surge to the colonial construction between 1903-1912 of the East and West Moles which solved the siltation problem of the shipping channel at the nearby Apapa Port. If, however, port engineering works always catalyzed surges, then other Nigerian densely-populated port cities such as Warri, Port Harcourt, Calabar, Koko, Bonny or Onne, could suffer similar afflictions, according to oceanographers. With coastal populations around the country rising from 20% in 1993 to 30% of the national population (approximately 51 million people) in 2011, ocean surges therefore posed a formidable danger if unchecked. For Lagos, as the most populated and fastest growing coastal city in Nigeria with 13.4m people in 2000, urgent solutions to the surge were needed. Whenever the ocean overflowed the beach, it messed up live and livelihood in Victoria Island by flooding nearby homes, offices and thoroughfares. Experts predicted that the consequent erosion, at 15 metres per annum, could wipe out Victoria Island despite remedial measures which had cumulatively gulped over $250m by the 1990s, according to some estimates. Thus, the proposal from South Energyx Nigeria Limited to construct a modern city on the site of the troubled Bar Beach was welcomed widely.
The concept was a scheme aimed at restoring lost beach ground and to construct permanent defenses against ocean erosion to achieve a land reclamation of 1,037.763 hectares. In a business plan which broadened into a joint venture partnership between the developer and the Lagos State Government a new city, one-and-half times the size of Victoria Island was projected, designed to accommodate 250,000 residents and 150,000 commuters who work in the city, 7,500m along the ocean shoreline. Three marinas were to be created with a central 30m-waterway connecting them to provide water transport infrastructure. Although some dredging firms were initially contracted for the huge project, DISN was engaged in 2012. In a response to questions from DDH, DISN told the magazine that the "Eko Atlantic city project is our signature project and the largest so far in Nigeria, where our brand new hopper dredger, Congo River, with 30,000m3 pumping capacity, was deployed for the challenging project. This project not only solved the challenge of housing in Lagos State but also stemmed the environmental challenge being faced along the coastal line of Bar Beach/Ahmadu Bello Way which was being eroded due to heavy waves from rising sea levels".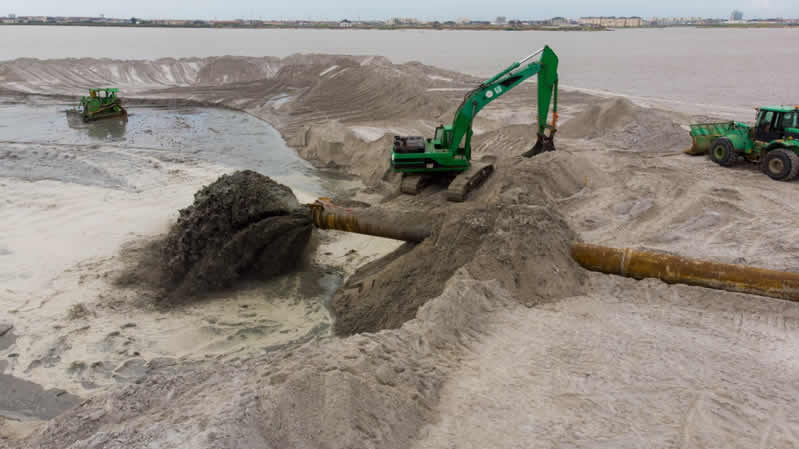 Asked about the technological improvements which DISN have brought into the Nigerian theatre of operation, the company said it has pioneered the use of environmentally-compliant vessels. According to the statement, "With respect to the environment and preparedness for a sustainable future, most of our new vessels are equipped with a dual fuel engine, which are capable of running on LNG, … [geared] to using cleaner energy and reduction of Co2 emission. Furthermore, we are currently building the world's most powerful Cutter Suction Dredger with a total installed capacity of 44.180 kW (50% more than the largest existing CSD). This dredger is planned to be launched in Q1/2020." Another operational innovation by the company is flexible financing arrangements for its customers. It said that "Financing is usually the main issue in dredging and this is why we offer our clients options of a structured project financing for a smoothly running operation".
Also, as an improvement on its operating manpower structure, DISN changed the expatriate-local component of its workforce to reflect greater alignment with local content sensibilities and the impartation of skills for technology transfer. According to its statement, "DISN prides itself in retaining experienced staff, an average work history of about 15 years for most senior staff and 20 years for across the board. Historically, the company's operations were being managed by expats but since 5 years ago, they were completely replaced by trained Nigerians now constituting 90% of its operations and management. Now we have even more qualified Nigerian seafarers and technicians". Presently, Mr. Luke Inegbedion, a Nigerian, is on the board of the company as a director.
DISN corporate social responsibility (CSR) policy is robust and futuristic, targeting the young and up-and-coming generation of the country's population. Last year, the company donated surveying equipment work several millions of Naira to the University of Lagos Department of Surveying and Geo-Informatics in a gesture praised by the Dean of Engineering, Prof. Funsho Falade. He said that "the support of corporate organizations such as DISN was necessary to complement government's efforts in the education sector…. The donation is of great value to the school and government cannot do it alone, hence it needs the assistance of corporate organizations and wealthy individuals. We appreciate the company for their kind gesture with a promise that the equipment will be put into quality use".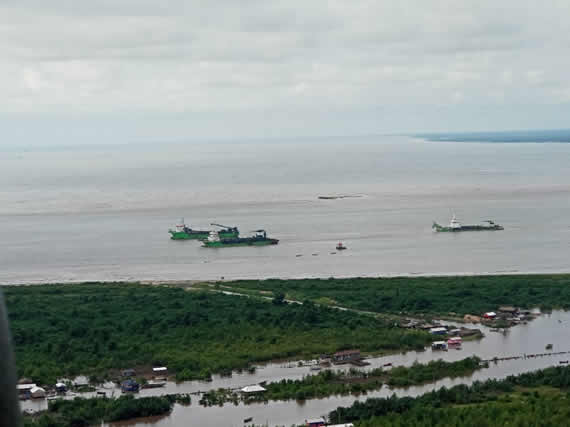 Similarly, DISN took up a large sponsorship of the maiden edition of the University of Lagos International Conference on Land and Development in Lagos which held on 24-25 October, 2018 at the University's Multipurpose Hall. In a statement, the company said its "enriching programs" were aimed at "better family live and safe environment. DISN also recognizes the importance of the local communities as critical elements in ensuring peaceful co-existence to successful and profitable project execution and completion. DISN has executed several major projects in the Niger-Delta and Lagos host communities, where good mutual understanding was reached and to a large extent, a peaceful and cordial relationship was achieved".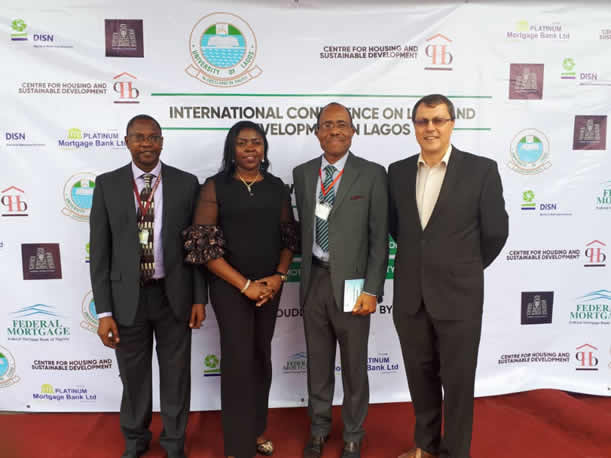 Some of these projects include: annual support and donations for various charities and NGOs such as International Women Society (IWS), Mo-Rainbow Foundation (MRF) (University of Lagos); Free Medical Programme (2009) organized for its host community of Alase-Ama in Borikiri, River State; development of the football field in Finima Community; construction of borehole (water system) in Borokiri, Port Harcourt, Rivers State; malaria control and prevention programme 2010 in collaboration with Family Care Association; annual sponsorship of "Small World" event (one-day fund raising event for Nigerian charities) in collaboration with the "International Women's Organisation for Charity (IWOC)", and annual Christmas party celebration for the underprivileged children of Lagos State in partnership with Development Africa.