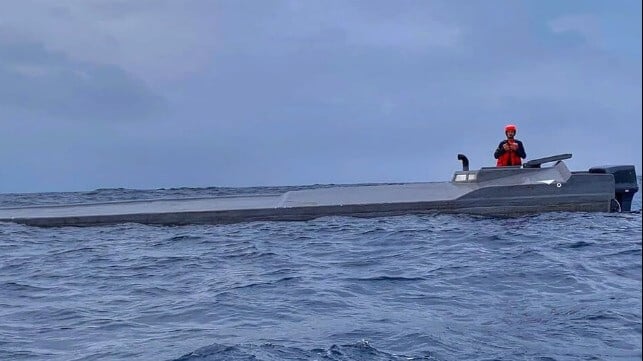 The Colombian Navy in a joint operation with the Air Force is reporting the capture of the largest semi-submersible in the 30 years it has encountered these low profile vessels used by the drug cartels, according to The Maritime Executive.  The successful capture of the vessel in the Pacific also resulted in one of the largest cocaine seizures by the Navy.
Details of the operation were released on May 12 with the Navy reporting the capture of three individuals manning the vessel along with the recovery of 102 packages with a total weight of more than three tons (3,058 kg) of cocaine. They estimate the value of the cocaine at $103 million.
The vessel was detected on radar with the Air Force and Navy conducting surveillance. The Air Force also received unspecified "international support," during the operation.
The Navy reports it was able to intercept the vessel despite adverse weather conditions. It measured more than 98 feet in length and nearly 10 feet in width. The three individuals aboard reported they had been forced by the cartel to make the trip.
The Navy believes they also saved the lives of the three because the vessel had begun to take on water through an inlet in the engine area. The Navy attempted to save the vessel but it sank.
They report that they first encountered these types of vessels in 1993 discovering one that they believe was being prepared for a trip on the Isla de Providencia. The first captures of these vessels at sea took place with one in 1994 and another in 1995. In total, the Navy reports it has intercepted and seized 228 semi-submersible and submersible devices in the past 30 years.
They note in 2009 the Navy supported new legislation which criminalizes the use, construction, commercialization, possession, and transport of semi-submersible or submersible devices. The penalties under the law range between six and 14 years in prison.