The U.S. Navy has released the first photos of debris from the Chinese spy balloon that was shot down off the coast of South Carolina over the weekend, according to The Maritime Executive.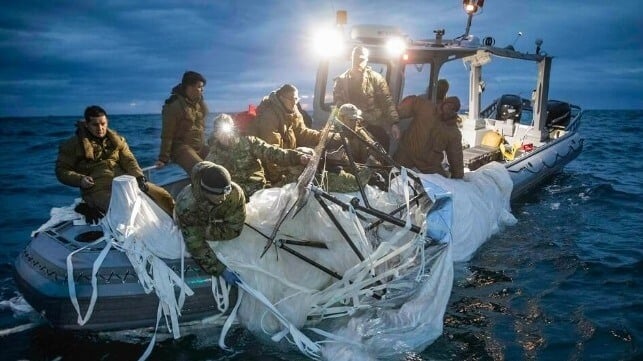 A team from Explosive Ordnance Disposal Group 2 recovered the fabric of the balloon itself on February 5, according to images provided by U.S. Fleet Forces Command. The rest of the remains of the balloon's one-tonne payload are scattered over a wide area of the seabed, and dive teams are working to find and recover the pieces for intelligence purposes.
The USS Carter Hall, an amphib, is supporting operations and collecting debris in the splashdown zone, with participation from the FBI and the Naval Criminal Investigative Service. The survey ship USNS Pathfinder is mapping the ocean floor using sonar to guide the debris search. At least two unmanned underwater vehicles have played a role in the subsea search. In addition, a commercial OSV may soon join the operation for support purposes, according to USNI.
The U.S. Coast Guard cutters Venturous, Richard Snyder and Nathan B. Bruckenthal, along with Coast Guard aircraft, are standing guard around the area to keep traffic clear of the operation. The destroyer USS Oscar Austin and the cruiser USS Philippine Sea joined in the early stages of the response effort.
Before the Chinese balloon was shot down, it made a full transit over the continental United States from the Intermountain West to the Southeast, flying at a height of about 60,000 feet. It arrived first over the Aleutian Islands and crossed into Canada's Northwest Territories before drifting back into U.S. airspace over Idaho. According to officials, it crossed over Montana and passed near to Malmstrom Air Force Base, a strategic launch site for intercontinental ballistic missiles.
The White House has said that it opted to wait to destroy the device over water because of safety concerns. An F-22 Raptor downed the balloon with a short-range air-to-air missile at about 1440 hours Saturday at a position about six miles off Myrtle Beach.
China denies that the craft was used for surveillance, and maintains that it was a civilian meteorological balloon that went off course.