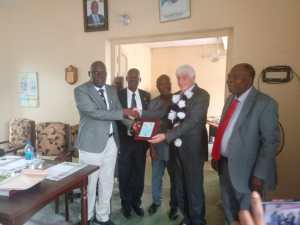 The Nigerian Association of Master Mariners (NAMM) on Monday conferred Honourary Fellowship awards on the Rector of the Maritime Academy of Nigeria, Oron, Commodore Duja Effedua (rtd) and the immediate Group Managing Director of Comet Shipping Agencies Limited, 'Capt.' Pier Luigi Carrodano for their outstanding contributions to the Nigerian Maritime industry over the last decade.
Speaking during the programme which held in Lagos, the National President of NAMM, Capt. Tajudeen Alao explained that the Board of Trustee of the association organized the event to show appreciation to individuals who have contributed to development of the maritime shipping industry in Nigeria.
According to Alao, "The Board of trustees of NAMM, in collaboration with the association's executives felt it's right time that individuals that have contributed immensely to Nigeria's maritime sector should be honoured. The President Muhammadu Buhari's administration will be winding down anytime soon and we felt this is the time to do this. The individuals have been selected within a period of ten years, and their contributions evaluated before they were chosen for this honours. We are doing this as a forward step towards a major recognition event which we will be holding later in the year. Captain Carrodano has been with us for many years and his contributions have been tremendous.
"For the Rector, Maritime Academy of Nigeria, Commodore Duja Effedua, you are all aware of the transformation at the Academy. From obscure buildings and infrastructures to state of the art structures and equipment that we have today, you will all agree that the Academy has been transformed and is currently competing with the best Academies that abound globally."
In his acceptance speech during the award presentation, Commodore Duja Effedua dedicated the award to future seafarers and upcoming Seafarers.
In his own words, Effedua said that "I wasn't expecting this. Didn't see it coming. Over the years, I have discovered that a lot of people try to patronise me by giving me awards. That's why I have rejected so many awards and I am still rejecting some. However, this award is different because NAMM has supported the Academy since I took over as Rector.
My family will be the first to see this award aside my staff that are here.
"I want to appreciate my staff because they supported me and agreed with me on repositioning of the Academy. I want to dedicate this award to future Seafarers and those who are currently in training because it capped my effort towards making life easier for them. On what we have achieved at the Maritime Academy, it is down to blockage of leakages which made me very unpopular. As at today, I have about 7,000 petitions written against me, all of them frivolous. It is the money that we got from revenue leakages blockage that we used in upgrading the Academy. Today, the Academy is one of the best in the world, not Africa."
In his acceptance speech, the former Comet Shipping Group Managing Director, 'Capt.' Carrodano expressed his profound gratitude to NAMM for the Honourary Fellowship awards.
"| want to express my profound gratitude for the Honorary Fellowship you have bestowed upon me. ft is a great honour to be recognized for my contributions to the Association and the Maritime Industry at large. | am humbled and deeply appreciative of this prestigious accolade.
"I am thankful for the opportunity to have worked alongside dedicated professionals and experts in our shared pursuit of excellence and progress. This Fellowship not only acknowledges my individual efforts but also represents the collective achievements of our community. It serves as a reminder of the impact we can make when we unite and stnve for continuous improvement.
"I extend my heartfelt thanks to the Board of Trustees, Executive Council, and all the members of the Association who played a vital role in this decision. Your support and trust are greatly valued. I am also grateful to my mentors, colleagues, and pecrs who have supported me throughout my journey.
"As an Honorary Fellow, [ remain committed to advancing the goals of the Association and contributing to the growth and safety of the maritime industry. | will continue to dedicate my knowledge and expertise to drive positive change.