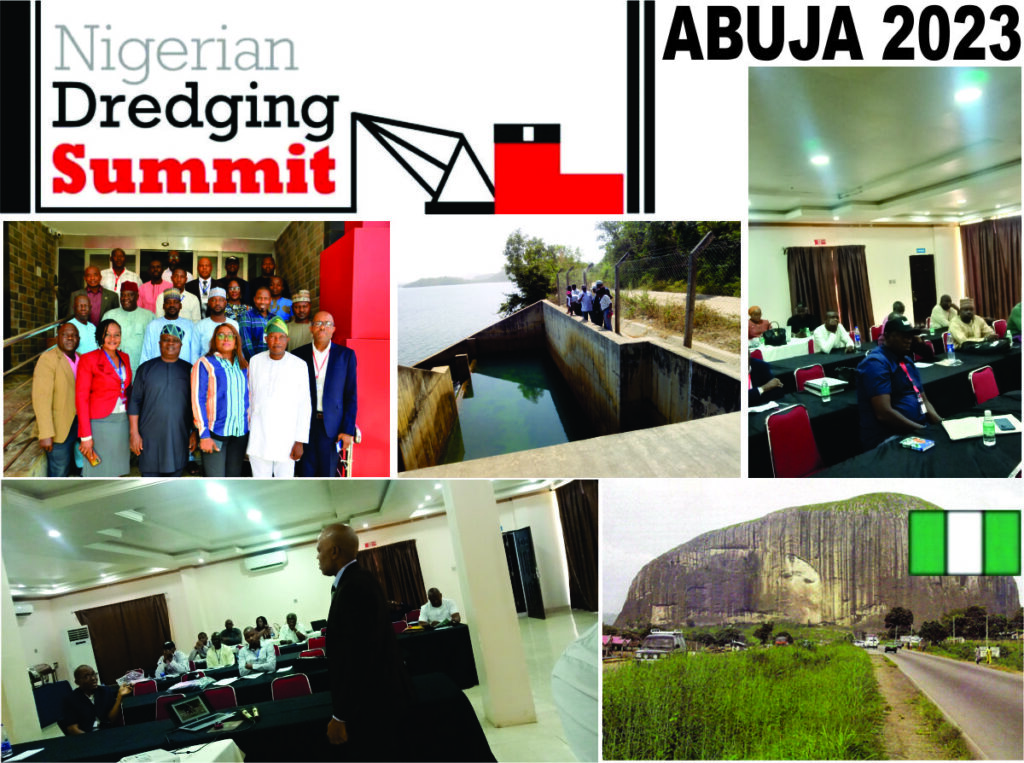 Invitation to the 16Th Nigerian Dredging Summit and Exhibition: Abuja 2023
THEME: Environmental Compliance and Channel Management in New Ports
You are cordially invited to the 16th Nigerian Dredging Summit and Exhibition Abuja 2023, slated to hold as follows:
Date: 23-27 October 2023.
Venue: JOSTO Hotels and Suites, Near NEXT Cash and Carry Kado Abuja.
Time: 9:00am – 4:00pm daily
Exhibition: 24-Hours available (Top-level Security Provision)
Focal points:
Port and Maritime sector, Seaport terminal operation, Shipping and Dredging Service, Channel and Harbour Dredging, Linkages with the Oil and Gas sectors, Sand Mining and Supply, River Health and Water Security.
Leading papers: "The Application of Artificial Intelligence (AI) in Dredging Equipment Operation and Maintenance" by Dr. Musa Zarmai, Unviersity of Abuja.
2) "The Impact of Dams on Nigeria's Flooding Experience" by Dr. Victoria Anyakorah, FCT Water Board, Abuja.
Players in the industry:
International Dredging Contractors (including Dredging International, Royal Boskalis, Royal Haskoning, China Harbour Engineering Company), Nigerian Dredging Contractors including Lagos Channel Management, Bonny Channel Company, CARES, Funq Tai Dredging and Engineering Company, Harris Dredging, Elcathay Dredging, Pelfaco, Delcon Engineering, E A Temile, Pioneer Equipment, Mantrac Equipment, Nigerian Ports Authority, B and Q Dredging, Nestoil, Julius Berger, Kebbi International, BIS Floats, Italdraghe, Mamba Underwater Engineering, Julong Dredging, Toxicology Research Associates, NCDMB, Federal Ministry of Environment, NNPC, Addax Shoreline, and many other Nigerian companies. The field is large and vast, a huge market and the biggest possibly in Africa.
Former Participants, Regular Participants: The annual event attracts participants from dredging, surveying, oil and gas, sand mining, and academia.
Regulatory Agencies and Parastatals: Federal Ministries of Transport, Environment, Mines and Steel Development, NPA, NIMASA, NIWA, NNPC, NCDMB, etc.
Other past and regular participants: Damen Dredging Equipment, Ellicott Dredges, Nationwide Equipment USA, Italdraghe (Italy), Van Oord, Westminster Dredging, Dredging International, Lagos Channel Management, Bonny Channel Company, CARES, etc.
A recent typical Dredging Summit and Exhibition photograph:
EXCURSION: The delegates shall be taken on an excursion to see the Lower Usuma Dam and rehabilitation works taking place there to improve potable water supply in Abuja FCT.
REGISTER NOW:
Click the link below to down load the Nigerian Dredging Summit 2023 participation form or call.
For further details or to request invoice:
Contact 08033378735 or dredgeskills@gmail.com
Paper presentations
Water Security – River Health and the Quality of Sustainable Potable Water Supply in Nigeria.
Impact of Dams on Nigeria's Flooding Experience.
The Application of Artificial Intelligence (AI) in Dredging Equipment Operation and Maintenance.
NIWA's dredging regime for sustainable inland waterway transportation in Nigeria.
Pre-Dredge and Post-Dredge Surveys and Proofing Sand Search Reports.
Sand Mining in Nigeria: The Limits of Foreigners' Participation in Artisanal and Mechanized Sand Mining and Dealing in Nigeria.
Calculation Techniques for Accurate Measurement of Channel Maintenance Dredging Volumes: Case Studies of Lagos and Bonny channels.
Deep-sea and deep-water port dredging and hydrographical services. 
Channel and harbour dredging priorities for Nigerian seaports.
 Dredging services provision for the oil and gas sector
Sand mining and environmental remediation benchmarks for best practices.
TARGET AUDIENCE:
CEOs, Group Heads, Managing Directors, Vice Presidents, Senior Vice Presidents, Executive Directors, Directors, Senior Managers, Managers, Resident Engineers, Maintenance Managers, Stores and Inventory Managers, Marine Engineers, Marine Engineer Assistants, Specialist Technicians, and related officers in the following sectors and professions:
Facilities/Facilities Management
Maintenance Section
Facilities Maintenance
Infrastructure Management
Assets/Asset Management
Technical Services
Engineering
Marine Civil/Civil Engineering
Construction
Operations
Harbour Masters
Container Terminals
Marine Structures
Equipment Management
Port Service
Port Hydrographers
Surveyors
Environmental Compliance
HSE
Security Unit
Public Relations and Government Liaison Unit
Estate Departments / Real Estate Units
Offshore Supply / Chandler Services
EXHIBITION GALLERY /MARKETING
As usual, there will be opportunities for equipment makers and vendors, and other service providers to exhibit their wares at the Exhibition Gallery. Interested organizations should contact the organizers as soon as possible via email or telephone. Another marketing avenue is the Summit's Colour Brochure where adverts can be placed. This Brochure, distributed free of charge to all participants, holds useful information and contact details of participating companies, regulatory agencies and other service providers which could come in handy later.
Our typical stands for exhibitions look like this.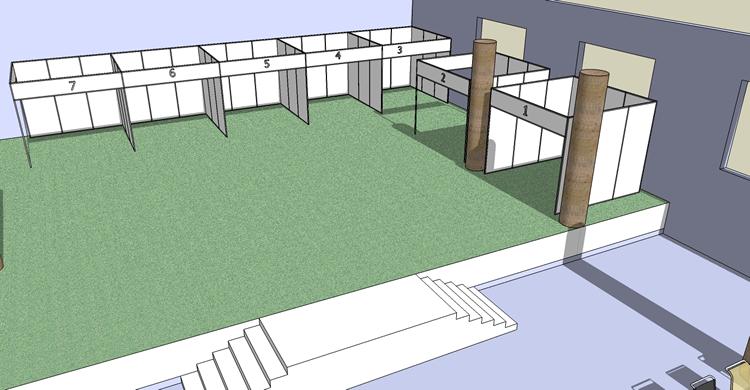 However, additional adjustments are being made to suit other exhibitors. Let us know in time about your specific needs.
PARTICIPATION OPTIONS / ATTENDANCE COST
Individual: N450,000.00 / US$673 per person
Group Participants (5 persons and above) (5 persons and above) 15% discount
Exhibitions: N750,000.00 / US$1,350 per square meter
(4metre X 4metre standard space = N3m / US$5,400 / with 2 free delegates)
ADVERTISEMENT RATES FOR THE COLOUR BROCHURE:
Outside Back Cover: N650,000.00 / US$1,250
Inside Front Page: N500,000.00 / US$961
Inside Back Cover: N450,000.00 / US$865
Full page: N400,000.00 / US$769
PAYMENT DETAILS
Bank: Zenith Bank Plc.
Acct. Name: Dredge Skills and Marine Training Centre Ltd.
Acct. No.: 1221840237
Sort Code: 057150518
Please call us for an invoice if you need one.
Deliverables:
1. Attendance certificate
2. Daily Tea/Coffee breaks and Lunch refreshments
3. Summit T-shirt, stationery and copies of papers and presentations
4. Exhibition spaces
5. Summit Field Trip on the last day
BRIEF PROFILE OF THE DREDGING INDUSTRY
Since the recent dredging campaigns on the Lower River Niger and the rapid increase in the demand for river sharp sand for civil construction projects, dredging issues have assumed an important position. Other recent projects where dredging services will be needed include the UNEP remediation works in parts of Ogoniland affected by oil spills. Recent Projects which gulped huge quantities of sand include the Eko Atlantic City project in Lagos and the new Yenagoa Airport land reclamation project. Also, many state governments in the coastal and Niger Delta areas routinely embark on dredging projects and civil engineering works that require heavy sand mining operations to supply the needed construction materials. Thus, environmental issues, sand mining and harbor dredging constitute much of the dredging industry in Nigeria. In all, about 25 million cubic metres of mined sand is estimated to be used annually in Nigeria presently.
After the capital and maintenance dredging of the River Niger 10 years ago, a similar operation was planned for the River Benue, although paucity of funds and change of government affected the programme. As is widely known, the object is all-year round navigability of the major inland waterways in the country in the hope to improve inland waterways transportation. Some of the defects in harnessing the marine resources of the country include the existence of sand shoals, groynes, rock outcrops and rapid siltation in our rivers. These require expensive capital and maintenance dredging treatments almost on a continual basis, a situation that is not feasible in view of government's dwindling income. How can these issues be addressed in the long-term? The answers are provided by our seminar paper presenters who are professionals and well-experienced.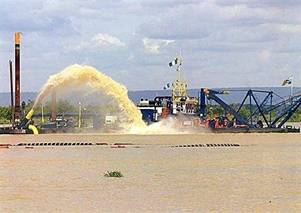 In the same vein, sand mining from rivers, streams, natural and man-made lakes continue to supply the nation millions of cubic metres of sharp sand annually for road construction, real estate development, beach replenishment and even remediation of oil spills, etc. What are the aggregate business opportunities in the sector and in what direction of growth is the industry headed? Participants at this Summit will gain insights on how to manage the economies of dredging and sand mining with the precautions for environmental best practices. The imperatives for sound environmental practices in dredging and the oil and gas industry generally, will be captured from the perspectives of environmental impact assessments (EIA), which, if strictly adhered to, will save the country from the despoliation that gave rise to the Ogoni land spillages, for example. Our experts on safety and the environment will handle these aspects of the seminars.
Moreover, this year's Summit and Exhibition will offer delegates a peek into the ramifications of the government's attempt to streamline activities at the Eastern Ports through incentivization. This is a subject with which the NPA, NIMASA and other MDAs, such as the Nigerian Shippers Council, are now concerned and working to address the apparent disparity in patronage between the Lagos ports and the Eastern port zones. With crude oil earnings forecast to be unsteady, other promising sectors such as maritime trade must be optimized to contribute more of the national budgetary spend for the federal and state governments. Thus, a focus on the Eastern ports will be one of the major papers to be delivered at the event.
River and Harbour Dredging
River dredging to deepen shipping channels began in Nigeria in 1907 when the colonial authorities placed a dredger at the Lagos port access to the Atlantic Ocean for the removal of sand shoals. The shoals had made entrance for big ships into the harbor difficult. As ships got bigger and drawing deeper draught, the need for more and rigorous dredging of both access channels, turning basins and berths became more compelling. The more the river ports increased, especially after the Nigerian civil war, harbor dredging programmes became larger. In addition, we have added more resources for up-to-date information and answers for seaport terminal concessionaires who have to make a profit out of their business undertakings in a fast-developing port services industry. These resources will teach on predictive maintenance regimes to keep port installations and infrastructures in top form to render competitive services to importers, exporters and other port users.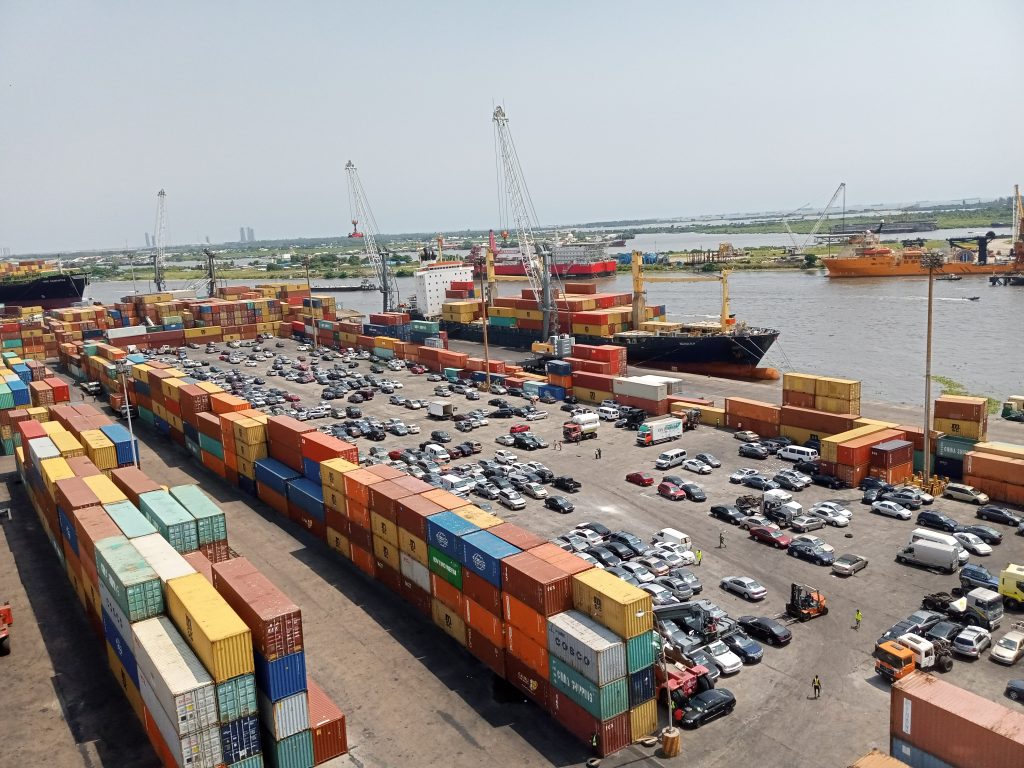 With the addition of special navigational needs such as the very high and increasing throughput at the Lagos Ports Complex and exigencies of greater movements of gas carriers for the Nigerian Liquefied Natural Gas at Bonny near Port Harcourt, the NPA has had to involve dredging management companies to oversee a dedicated channel dredging system for uninterrupted services. Almost always, harbour dredging projects for the NPA are underway all over the coastal parts of the country all the year round, unlike the dredging of the Lower River Niger in 2009 which was one-off and gulped over N36 billion paid by the federal government managed by the National Inland Waterways Authority (NIWA) and Federal Ministry of Transportation. Six dredging companies and same number of consultants were engaged on the project which was declared completed in 2011/2012. The distance covered ranged from Warri via Forcados and the bifurcation at River Nun, and upriver to Onitsha, Ida, Lokoja and Baro, over 500km; river ports were projected to be constructed or refurbished at the last four locations. By far, the campaigns along the inland waterways and harbor dredging form the bulk of public sector dredging projects in Nigeria today. At the 15th Dredging Summit and Exhibition this year, the Nigerian Navy which has been surveying and charting the river will deliver some presentations to inform the public about its work, the activities of the NNS Lana survey ship, the results and how the new Nigerian Hydrography Bill passing through the National Assembly will affect the practice of surveying in the country.
Sand mining
This is the quest for sharp sand or red earth, the former is dredged from rivers and lakes while the latter is mined from surface soils and forests. More than 90% of all dredging activities take place in the Niger Delta and southwest Nigerian states. The need is mainly for filling materials and mortar for road and housing constructions. Lagos enjoys the pride of place as the leading location for the highest use of sand, due to massive infrastructure projects, the housing boom in Ibeju-Lekki peninsula, Badagry and other fast-developing residential and industrial centres.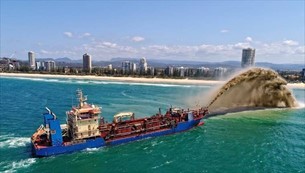 The famous Eko Atlantic City, where South Energyxx of Holland and other high net-worth investors have reclaimed over 1.5km2 from the Atlantic Ocean at Bar Beach in a public-private initiative with the Lagos State Government is another ambitious reclamation project on the Nigerian horizon. The reclamation required the dumping of about 95 million cubic metres of sand mined from the ocean. The development of the Lekki and Badagry Deep Sea Ports and petroleum refinery projects by multinational collaborations and the Dangote Group, respectively, have added much pressure on the demand for sand. Consequently, in addition to the few multinational dredging firms operating in the country, there are more than one hundred reputable small-scale dredging firms engaged in the business of sand mining from water bodies all over the riverine areas of the country. They also supply the market for road construction and housing developments.
Oil and Gas Sector and other sub-sectors…
For all swamp operations of the international oil companies (IOCs), such as Shell, Mobil, Agip, etc, much dredging services are usually employed. These are for well-head sweeping, canalization, channelization in rivers and small streams, and remediation in situations of oil spill, etc. As of 2008, over 65% of Shell's swamp activities required dredging services of various kinds. However, with the heightened disinvestment of SPDC in swamp operations in the wake of the Niger Delta crisis, the volume of dredging services complement to their activities may have reduced. In view of the so-called mono-crop nature of Nigeria's economy, this translates to a sensitive business which is handled by the dredging sector for the IOCs.
For For Further Enquiries, please contact:
DREDGE SKILLS AND MARINE TRAINING CENTRE LTD,
30 KING GEORGE V ROAD, ONIKAN LAGOS ISLAND.
TELEPHONE/WHATSAPP: +234 (0)8033378735.
EMAIL: dredgeskills@gmail.com
WEBSITE: www.ddhmag.com