Interview of the Managing Director, Lagos Water Corporation, Engr. Muminu Badmus.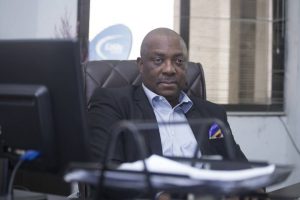 Engineer Muminu Badmus studied engineering at the University of the District of Columbia and Howard University. He is a native of Epe Alaro Ogunmodede in Lagos State. Before his appointment as managing director of Lagos Water Corporation (LWC) two years ago, Badmus had worked as a asenior manager with the District of Columbia Water and Sewer Authority (also known as DC Water), the same utility that supplies the White House. With more than thirty years cognate experience in engineering practice, he was in charge of DC Water's Capital Improvement Programme, a construction and maintenance project for the DC Water and Wastewater Authority. In this no-holds-barred interview, he expatiates on the mandates of the Corporation and achievements so far. Excerpts:
DDH: Can you give a brief history of the establishment of Lagos Water Corporation?
Badmus: Lagos Water Corporation has been in existence for over a century, and it is the water facility of Lagos State, with the primary responsibility of providing safe drinking water in sufficient and regular quantity to Lagosians. The Agency has gone through various developmental stages since its inception. It was formerly known as the Federal Water Supply under Federal Government, established in 1910, with the construction of Iju Waterworks, which was borne out of medical advice, noting the poor quality of water sourced from water bodies adjoining Lagos and wells used by residents. The experimental wells dug in Lagos Mainland at that time proved to be of higher quality than those in the Island. The Iju water scheme was therefore initiated to supply better quality water to old Lagos, which then consisted of Lagos Island, Ikoyi and its immediate environs such as Iddo, Apapa, Ebute-Metta among others.
The Waterworks was built on 151 acres of land at Iju, situated at the confluence of the Iju and Adiyan rivers. The project which started in 1910, was estimated at £300,000 and commissioned by Mr. Lord Lugard, the then Governor General of Lagos, on 1st July, 1915, at Obun Eko area of Lagos. Supply commenced in August 1915. The Iju treatment plant had the design capacity of 2.4 mgd (million gallons per day). After completion, about 200 water fountains and 250 water hydrants were established all over Lagos. Water was distributed to colonial Lagos through cast iron trunk mains pipeline with 28-inch diameter. The initial beneficiaries were European residents of Ikoyi, and Lagos Island. Gradually water was extended to other areas, and distribution was increased in 1943, with the addition of a second pipeline. Prior to 1954, the source of water for the scheme was from Iju and Adiyan streams. Further increase in capacity occurred in 1954 to serve Ikorodu Road, Ikeja and Eastern Lagos, due to the fact that abstraction of water was extended to Ogun River.
Between 1962 and 1973, the capacity was progressively increased, and by 1985, it had reached 45 million gallons per day. After the creation of the State in 1967, the responsibility of Iju Waterworks was transferred to Lagos State under the administration of Brigadier Mobolaji Johnson (rtd), the first military Governor of Lagos State. As the population increased, water demand increased. In order to meet the water demand of ever-increasing population of the State, water facilities such as treatment plants and equipments were installed under the Corporation's continuous expansion schemes. This led to the construction of 4mgd Isashi Waterworks to provide water supply from Badagry down to Lagos axis in 1976 and 70 mgd Adiyan Waterworks (1991) to supply water to western part of the State respectively. In 1979, under the Administration of the First Executive Governor of Lagos State, Alhaji Lateef Kayode Jakande, the name of the Agency changed to Lagos State Water Management Board (LSWMB).
The then Military Administrator of Lagos State, Group Captain Gbolahan Mudashiru, formally launched the Lagos State Water Corporation (LSWC) in 1986. Later, His Excellency, Asiwaju Bola Ahmed Tinubu, the Third Executive Governor, Lagos State, rechristened it Lagos Water Corporation (LWC) in the year 2004, by virtue of Lagos State Water Sector Law (No. 14). Since that time, there have been massive constructions of Mini/Micro Waterworks spread across the State. Currently, the total installed water production capacity is 210 mgd, which is lower than the current water demand of 540 mgd. In the Corporation's renewed effort to solve the problem of water shortage and ensure steady supply for the growing population of Lagos, the Lagos Water Corporation has developed a Lagos Water Supply Master plan as a "Road Map" to take the water production capacity of the State to 745 mgd by year 2020.
In the year 2003, Governor Babatunde Raji Fashola who took over from Asiwaju Bola Ahmed Tinubu, took up this good work from where it ended, by commissioning 16 waterworks across the State, thereby enabling an increase in the provision of water in Lagos State. In 2015, Governor Akinwunmi Ambode took over the leadership of the State and embarked on massive development of water infrastructure all over the State with the commissioning of 2mgd Mosan – Okunola mini Waterwork, 4mgd Otta – Ikosi Regional Water Scheme and the Isashi Waterworks, recently upgraded to 4mgd.
Summary of Major/Mini/Macro Waterworks and Date of Commissioning:
1. Iju Waterworks – 1910
2. Ishasi " – 1976
3. Adiyan " – 1991
4. Akute Intake – 1991
5. Otta-Ikosi – 2016
6. 48 mini and macro water works.
DDH: Can you give us a brief portrayal of the infrastructures of the Corporation for the water supply?
Badmus: When it comes to water infrastructure or facilities, you cannot take it away from Lagos. I can boldly say that even the first facility that was built over ten decades ago still maintains its pristine state. Concisely, because the State Government is proactive and gives water top priority, knowing full well that it is life, it has continued to upgrade and expand the facilities across the State. This is an indication that Government is serious and committed, to ensuring that water runs in every home in the State. Presently, we have 5 major waterworks and 48 mini waterworks, spread across the State, and government is unrelenting and is still building more waterworks to keep pace with the population growth in the State.
DDH: What are the current projects and developments being undertaken to upgrade the infrastructure and service network in line with growing consumer demands?
Badmus: Honestly, I will answer this question from two perspectives. I will look at it from human development perspectives as well as the capital projects. Since I assumed office as Managing Director of this Corporation, positive changes have taken place. First, government business like any other business requires human capacity to drive the activities towards achieving results. That is why, we have developed some strategies that involve human resources diagnosis, training in the area of capacity building, introduction of various payment channels, to boost revenue, introduction of Geographical Information System (GIS), and Asset Management for operational efficiency and management of infrastructures and water supply system, and creating regional business offices for effective service delivery among others. These strategies have raised the level of performance, and the result is quite encouraging. I want to sincerely say here that as part of the State's renewed efforts to expand our facilities, the Corporation commissioned Mosan-Okunola mini waterworks of 2mgd and Otta-Ikosi regional waterworks of 4mgd in 2016. The regional waterworks are expected to serve nine communities between Itoikin and Agbowa communities. These communities include Ado, Agbowa, Ago Hausa, Ago Owu, Ajebo Orugbo, Iganke, Ikosi, Odo-Ayandelu and Otta-Ikosi. As I speak, the State has approved the construction of 100mgd Odomola water scheme, through Public-Private Partnership (PPP), to serve Epe and Victoria Island axis. Also, the Imeke – Iworo, Surulere, Isashi and Abule Egba mini waterworks will be commissioned soon. Rehabilitation of 48 Mini/Micro waterworks across the State and the rehabilitation of major waterworks of Iju, Adiyan and Akute Intakes. Presently, the Construction of 70mgd Adiyan Phase II water treatment plant is ongoing. When completed, it will serve additional 3 million residents in the State. Other projects that we are currently undertaking is the rehabilitation and expansion of water mains in Surulere, Itire, Yaba/Ebute Meta, Iwaya and Victoria Island, and expansion of mains from Ogudu Ori- oke to Alapere. All these efforts are geared towards ensuring that we should have excess water supply in Lagos.
DDH. Can you explain in detail the types of your consumers, and their population vis-à-vis any competition in the market?
Badmus: We can categorize our customers into three; industrial, commercial and domestic consumers. Of all these, we can say that domestic consumers are eighty percent of all our customers, and they use more water than other customers, and this is where we have more pressure in terms of supply. The Corporation's water is usually referred to as public water, being consumed by the residents of Lagos. It is our desire to make the water available for all residents of Lagos, because it is the best safe drinking water that has been tested and produced by certified professionals in conformity with World Health Organisation's (WHO) standard. More so, producing water for 22 million people is a big task that requires huge investment, and that is why it has been unrivalled among competitors. It is unfortunate that people drink water from which source they do not know, and this is not good as it poses great danger to consumers' health.
DDH: What are the problems of the Corporation and identified solutions?
Badmus: It is not an aberration for organizations to have problems, but your ability towards surmounting the problem is very important. First, you must identify the problem, analyze it, before proffering solutions. Of all the problems, I have identified three key ones. Epileptic power supply has continued to create incessant inhibition for smooth running of the Waterworks, resulting in irregular water supply being experienced in Lagos metropolis. Another challenge we have is funding, because water facilities across the world require colossal sums of money to operate, and Lagos is not an exception. However, the current administration of Governor Akinwunmi Ambode has been giving us necessary support to ensure that the facilities work round the clock, and we are grateful for that. The most difficult challenge we are grappling with is the population increase in Lagos. As we are all aware that immigrants from other states including neighboring states have seen Lagos as their first choice of residence, and this, of course, has put pressure on the facilities available for water production and has ultimately widened the water demand gap in the State. Aside this, we have a challenge of aging infrastructure which has posed some challenges, and for this reason, the State is continuously embarking on routine maintenance and total rehabilitation.
DDH: What is the profile of water rates, and any recent developments to make the service viable?
Badmus: Lagos Water Corporation has the cheapest rates not only in Nigeria, but also across the world. The present rate of the Corporation was fixed over seventeen years ago, and has not been reviewed. The Corporation supplies 50 liters of water at the rate of N1.37. What this means is that the Corporation charges N0.005k per liter. Honestly, this is not sustainable, because water is free, but safe drinking water comes at a cost. It needs chemical and other materials to make it potable and we all know how much the cost of 75cl water in the market is today. We discovered that our people waste water, while others are yearning to have water in their homes. For us to tackle the problem of wastages and make water available for all, we have just deployed 15,000 prepaid meters to Lekki, Ikeja and additional 24,000 units to be deployed to Surulere, Itire, Yaba/Ebute Meta, Iwaya , Victoria Island, Victoria Island Annex and Lekki. Nodal meters have been deployed into water distribution networks for efficiency and water supply in our zones. All these efforts are geared towards water conservation and customers having value for their money.
DDH: What is the expected attitude and compliance by consumers to facilitate optimum service delivery?
Badmus: It is true that the consumers cannot behave the same way. We have some that strongly believe that water should be free, and we have a good number that appreciate what we do, and believe in value for money. So, we do constant engagements, and try as much as possible to raise the awareness level, so that it will be a participatory efforts of all of us, to achieve desired goals. On the whole, I can say Lagosians are beginning to appreciate what Government is doing, the level of compliance is increasing day by day, and this is well commendable. On our part, the Governor Akinwunmi Ambode has given us mandate to supply water to Lagosians, back it up with necessary wherewithal and we are committed to that mandate. Water shortage in Lagos will soon be history.