Dakuku Peterside: Re-Tooling NIMASA's Core Mandate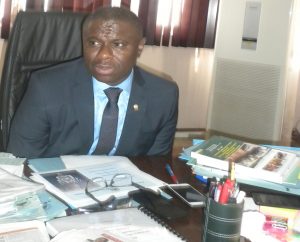 Dr. Dakuku Peterside, D-G, NIMASA.

By Edmund Chilaka, Ph.D.
When asked who is Dakuku Peterside, the 46 year-old All Progressives Congress (APC) former gubernatorial candidate for River State in the last election simply replied: " … a humble person, who will not like anybody to be cheated…." At the Nigerian Maritime Administration and Safety Agency (NIMASA) where he now works as Director-General (DG), that self-assessment is about to be tested. NIMASA can be analogous to Nigeria – complete with the ethnic heterogeneity, the demographic and gender distribution, the feelings of hurt due to past injustice, the competition amongst the middle and senior cadres for comeuppance or ascendancy over others, the scurrying, sycophancy and genuflection for favours, etc.

However, there is one commonality. Every NIMASA staff wants to keep his or her job. It pays well, far above most government jobs and the upper echelon enjoys some of the choicest perks for a Third World nation like Nigeria. In fact, after Chief Olusegun Obasanjo was elected president in 1999, he lamented during the prelude to his assumption of office that 65% of all elite CVs he had received begging for job placements were interested in a NIMASA appointment. It made him wonder what was there! A few of the perks of office may have been reduced these days due to the downturn in Nigeria's economic fortune which the DG decried has affected NIMASA's revenue generation. According to him, the current 51% drop in ship calls to Nigerian ports represents dwindling revenue that should accrue from the collection of the 3% levy of aggregate freight on Nigeria's imports and exports. Nevertheless, there is no gainsaying the fact of the pre-eminence of the Agency's salary structure amongst most civil service take-home pay packets in the land. And, unlike a few other organizations, it is hardly paid in arrears, for a staff strength well under 2,000.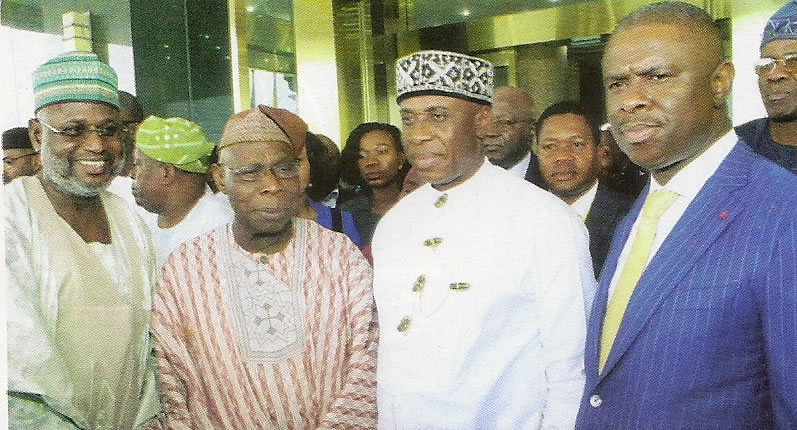 L-R: Chairman Sente Committee on Marine Transport, Senator Ahmed Rufai Sani, ex-President Olusegun Obasanjo, Minister of Transportation, Hon. Rotimi Amaechi and DG of NIMASA, Dr. Dakuku Peterside.
All said, however, Peterside's managerial acumen will be sorely tested by how the Agency handles the deluge of demands from elite Nigerians, including the ruling class, on the one hand, and issues of staff welfare, on the other. These two heads accounts for that critical component of its running costs which, from past experience, cannot be ignored. In fact, when the Minister of Transportation, Mr. Rotimi Amechi, lamented in December 2015 that "Over N100 billion is given to this agency yearly and I am yet to see how it has been spent", he was expressing a popular critique of the way NIMASA's earning have been frittered in the past. Such sentiments have no place anymore in today's lexicon because the funds are no more flowing as before and the rising chants of anti-corruption appear to have dampened the ardour for impunity which fed the extravagance. Thus, for the new DG, the pressure by the ruling class may be moderated. But the other problem of staff welfare, especially promotion and wrong designation, would take some invention to ameliorate. Succeeding DGs had employed relations and friends without strict compliance with official guidelines, so that in some places new graduates have been placed above their seniors in qualification and experience. About four generations of this skewed employment method now exist in the Agency and the aggrieved staffs have been clamouring for justice. Some staffs have been on queue for promotion for upwards of eight or ten years whereas available vacancies for elevation can hardly satisfy the backlog. It will take something like the wisdom of Solomon to address the malaise.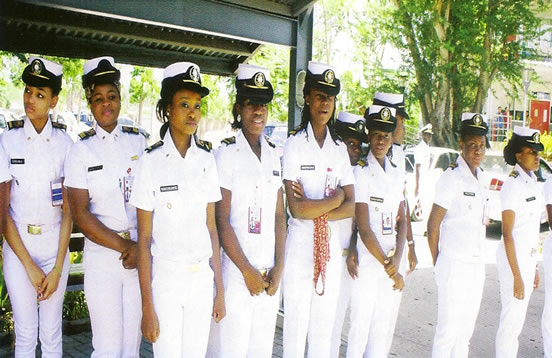 NSDP cadets
In an interview last month, Peterside confidently parried questions about the difficulty of the situation. He said federal civil service rules were explicit enough that promotions will be made to fill only available vacancies. If, conversely, there exists a larger backlog than can be presently accommodated, it seems imperative that a 'political dispensation' of the promotion exercise would have to be adopted. The magazine gathered that the cadre of "Chief" officers, said to have about 112 expectant candidates, for example, have only 46 vacancies, a far cry from the margin of happiness in the matter. It seems the many years of wrongful placement of new employees are about to take their toll on the personnel management model of NIMASA.
The other top schedules for the new helmsmen at the apex maritime regulatory agency of Nigeria include well-worn cliché of rediscovering the core mandates of NIMASA in a world where globalization and free trade have made nonsense of the original gangplanks of the National Shipping Policy of 1987. In November 2016, Amaechi reiterated an approval from the Federal Ministry of Transportation (FMOT) for NIMASA to be restructured, ostensibly, in line with changing realities. In the beginning, cargo reservation which resulted in cargo sharing was the more understandable format for the erstwhile National Maritime Authority (NMA) to facilitate the participation of Nigerians in the affreightment of cargoes generated by the nation's economy. That was the era of the UNCTAD code of 40-40-20 which sat well with us as a poor Third World country whose maritime traders could not compete with rich ship owners from the traditional maritime nations. However, that programme became flawed when the cargo allocation forms began to be sold to the highest bidders or whoever was favoured by the sitting transport minister. In 2001, President Obasanjo bowed to pressure from European shipping lines led by the likes of Maersk Line and suspended that aspect of the Policy. This sounded the death-knell of many fledgling indigenous carriers and their participation in ocean shipping nose-dived to zero. Call to mind that while cargo reservation lasted, it upheld the weak indigenous lines but also gave raison d'etre to NMA. With the failure of that aspect of the Shipping Policy, even the NMA took a hit because its most important core mandate was lost. A new quest to rediscover itself became imperative. In fact, the promulgation of Cabotage Law in 2004 and the merger of NMA with JOMALIC to form NIMASA in 2007 were some of the essential efforts to reposition the agency. The most important dividend would be the recovery of the facilitation role to aid indigenous shipping lines' participation in coastal and ocean shipping, an industry that holds huge promises of many multiplier effects for employment and increased GDP for Nigeria.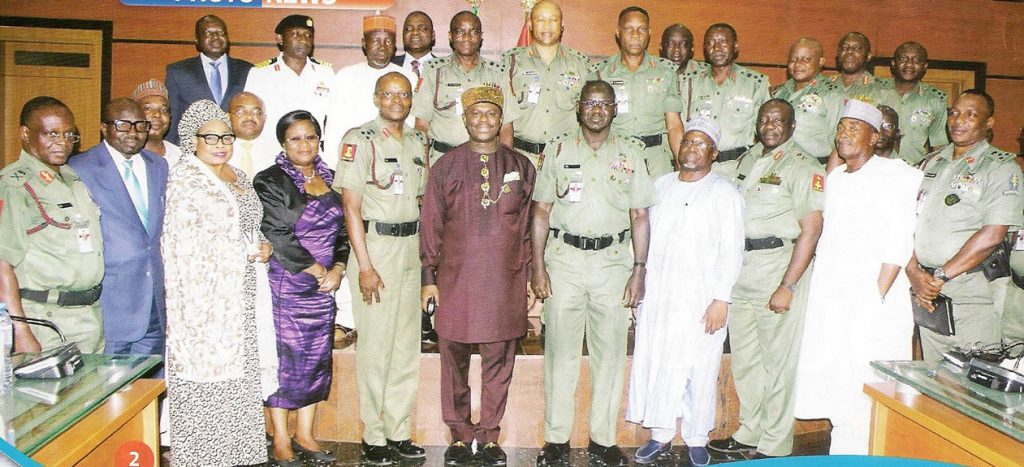 Dr. Peterside (8th from left), flanked by the Chief of Army Staff, to his left, and top echelon of the Nigerian Army and NIMASA when the DG paid a working visit Army Headquarters in Abuja recently.

Without a regime of support for Nigerian shipping lines to partake in freighting her international trade, it is questionable what else could justify its 3% levy collection. Section 15a of the NIMASA Act 2007 authorized the Agency to collect 3% of gross freight on all exports and imports. While 2% of the sum is for facilitation of Nigerian maritime trade, 1% is for the Agency to maintain itself, including the payment of staff emoluments. When cargo sharing to indigenous carriers was in vogue, there was no question that this function was deemed to be effect. With the suspension of cargo sharing, however, a new regime of assistance to approved indigenous sea traders was called for. Perhaps to clear this quandary, the Coastal and Inland Shipping Act 2003 (Cabotage Law) was promulgated with NIMASA as the implementing Agency. Indigenous operators were supposed to find solace in tramping the coastal space and inland waters, hauling cargoes around Nigerian maritime domain without competition from the powerful foreign carriers. Unfortunately, the existence of various lacunas and handicaps has hindered many local operators from benefitting from the cabotage trade law.
Thus, although around 600 ships are captured in NIMASA's register of national cabotage fleet, not up to 10% are in a ready state to undertake the off-shore transport and supply contracts on offer in the trade now. Complaints abound from the Nigerians. Many ship surveyors have certificates that are in need of re-certification. Many of their bottoms are out of class and in dire need of engine repairs or dry-docking or both. Even when fully repaired and put in order, most of the Nigerian fleets are over-aged, hence their foreign competitors dub them 'rust-buckets' derogatorily. Other skilled local mariners cannot be employed because of one lack of the other expiry in their certificates of competence (COC). Many of these disadvantaged Nigerians are looking up to the NIMASA to do something to lift their fortunes. Hence, in the management of human capacity development, training or re-training, NIMASA sees new opportunities to re-discover itself or retool its craft, with the hopes of founding a new raison d'etre.

Dr. Peterside (6th from left), with the Nigerian Navy High Command and top echelon of NIMASA staff during a working visit to Navy Headquarters in Abuja.
Four years ago, the Agency began an ambitious programme to train seafarers, both to replace the ageing first and second generation of Nigeria's trained mariners, and to break into the global industry that supplies shipping crew to the world's merchant marine. An industry dominated by the Philippines, India, Pakistan, Egypt and Indonesia cannot be impossible for Nigeria. The first nautical school in the country, Maritime Academy of Nigeria Oron was established in 1978 with UN assistance, which paid for the first Rector, an Egyptian, to kick-start the institution along international lines of best practices. The graduates of its Higher National Diploma in Nautical Science, Marine Engineering and Navigation courses went on to become successful international seafarers on board ships of the Nigerian National Shipping Line (NNSL), Black Star Line (BSL) and other ocean going carriers from across the world. The NNSL was a huge platform of motivation for up-and-coming cadets because they found ready training berths aboard its ships. With its liquidation in 1995, however, that door of opportunity closed. To date, over 5,000 MAN Oron HND graduates awaiting the mandatory 1-year sea-time experience before they could proceed with further education in the seafaring trades are stranded.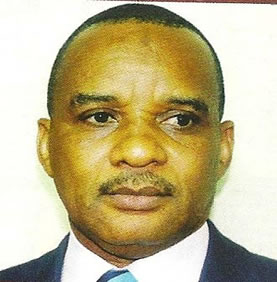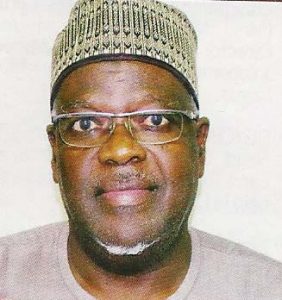 L-R: Bashir Jamoh, executive director, finance and administration; Gambo Ahmed, executive director, operations; and Joseph Fashakin, executive director, labour and cabotage services.

Thus, the NIMASA National Seafarer Development Programme (NSDP), under which hundreds of young Nigerians have been trained in seafaring in local and foreign schools, is a bold step to take the bull by the horns and fast track the birth of the next generation skilled Nigerian mariners. Incidentally, they would also need sea-time experience, their foreign diplomas notwithstanding. Peterside confided in the DDH magazine that with efforts made so far by the Agency, about 200 ND graduates will be going on board some foreign ships for the sea-time programme before the end of the 2016. Furthermore, NIMASA would henceforth pay foreign shipping lines and other pre-qualified ship managers to find cadet berths for Nigerian trainees. He informed the magazine that advertisements would soon be issued for this project.
In all this, the energy Peterside brought to the job was undeniable. Some NIMASA staffs discretely interviewed by the magazine confirmed that he doesn't leave files pending on his table. Whether this attitude would wane with the passage of time is an open question but the optimism was rife that if he continued in this wise and to learn fast on the job, the Agency would soon surmount its critical challenges. Nevertheless, some of NIMASA's current engagements appear hazy or poorly grounded, such as the renewed attempt to float a new national shipping line. Ordinarily, state-owned shipping lines are commercial aberrations in liberal economies. Many attempts by nation-states to run shipping lines floundered in time and Nigeria became a victim of the fraudulent nature of such SOEs when NNSL collapsed. Thus, this new foray is being viewed in many quarters with studied silence or outright skepticism. The DG said that the proposed carrier being floated with Singapore's President International Lines (PIL), would be "private sector-driven"; Nigerian companies would be free to buy shares to obtain partnership in the venture, which some industry operators view at best as fumbling with an amorphous entity of unproven characteristics. As at press time, it was not known when the committee charged with fine-tuning the modalities for the set-up of the carrier would come out with its recommendation. That committee is headed by the Executive Secretary of Nigerian Shippers Council, Alh. Hassan Bello.
The new NIMASA boss also spoke on the controversial maritime security contract awarded to Global West Vessel Management, stating that the contract was only suspended for EFCC investigation purposes but still intact. In the meantime, he clarified that the project of maritime domain security apparatus which was maintained by concurrence of the Nigerian Navy continues to be executed on the basis of regular naval patrols of the coastal waters as before the Global West contract. For an excerpt of his answers to other questions posed during the encounter, see box.
EXCLUSIVE INTERVIEW WITH THE D-G OF NIMASA, DR PETERSIDE DAKUKU
"…Our laws are clear, that if we have a national carrier, they should be given preference in lifting of our cargo, and we'll get everybody to comply with the provisions of the law." – Peterside.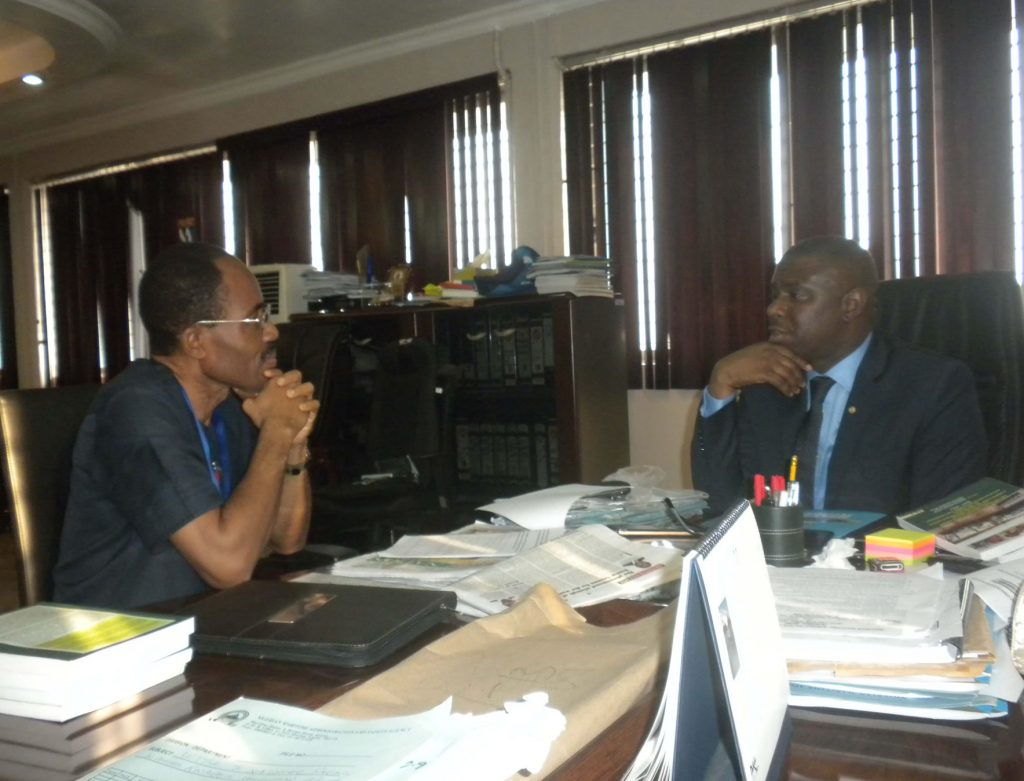 DG NIMASA being interviewed by Dr. Edmund Chilaka.

DDH: Now that the federal government is interrogating the former maritime domain safety and security operational arrangement, how will our waters, maritime endowments and deployed infrastructure for the oil and gas sector continue to be safeguarded for maritime security vis-à-vis the depredations of pirates or incursions of unauthorized operators at sea?
Peterside: Before the Global West contract, maritime assets were secured. What the Global West contract sought to do was to enhance it and acquire more assets to enable NIMASA to do its enforcement and regulatory function, and further secure the assets. Now with the Global West contract technically suspended, we have taken a number of initiatives. One, is to enlist fast security vessels to enable us do our regulatory and enforcement functions as well as also support our partners to secure our maritime domain. In addition, you know we have a satellite surveillance system in place, a maritime domain awareness system, to keep a bird's eye view of our maritime domain to secure our waters. We still have a relationship with the military, the Navy, the Air force to work together to collaborate to secure our maritime domain. So I think that we don't have a major challenge with that.
DDH: What new changes can we expected to improve flag state and port state control administration in Nigeria?
Peterside: We are commencing the process of flag and port state control. We are training more of our officers. Recently the United State Coast Guard offered us a place in their training institute for port and flag state function. We are also about to begin the error of scheduling vessels for port and flag state control. We are also about to start the era of scheduling vessels for port state control, using digital means. In addition, we are coming up with a new guideline for engagement of exclusive surveyors from non-exclusive surveyors, and the engagement and certifications of our surveyors. The cumulative effect of all of these is that we are going to have enhanced ports and flag state function, and the derivative is more compliance with international convention for Nigeria expertise.
DDH: On the CVFF, is NIMASA happy with the implementation of Cabotage Law?
Peterside: We cannot say we are happy, we can only be happy when we have 100% compliance. We are not there yet, but one thing is that before now very few vessels were built in Nigeria. Now we have many vessels built in the country, even though not 100% built in the country. We have more Nigerian owning more vessels than they did in 2003. We have more Nigerians manning vessels than they did in 2003. So, we have made progress. But are we where we are supposed to be? The answer is no. Are we working towards that goal? The answer is yes. I think we are working towards the goal, we are making appreciatable progress, we are tightening our knot, we are crossing our 't's and dotting our 'i's. So I think we are on course.
DDH: Do you think Nigerian operators are being encouraged?
Peterside: Nigerian operators are not encouraged the way they should be, but those factors are beyond us. It has to do with the global downturn or a dip in the oil and gas industry. You know many decisions are actually business decisions, it's not decisions that you just make for the sake of national interest. Not even concerned with the business side of it. People are in business to make profit and so you are not going to make decision and seem to choose deliberately to ignore all the other contending factors, you must factor all of that in making decisions even in the enforcement of rules. We are focused on ensuring that Nigeria optimizes the benefit in Cabotage Act. We are not ignorant to the fact that the prevailing factors may constitute some threat.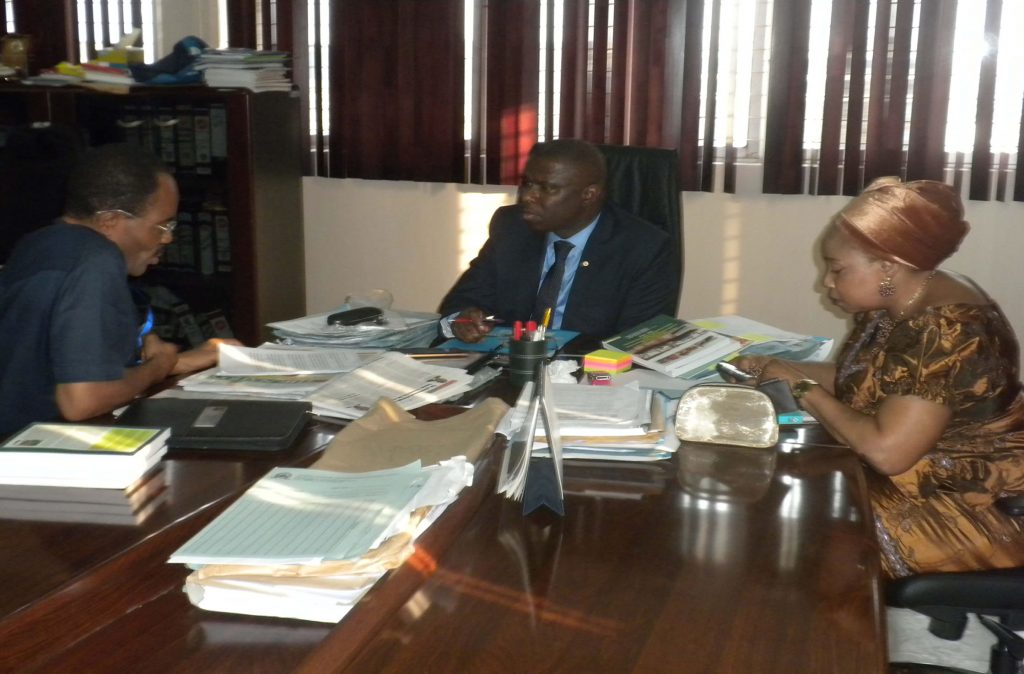 NIMASA DG, Dr. Peterside, flanked by Dr. Chilaka (left) and Hajia Lami Tumaka (right)
during the interview.
DDH: Still NIMASA would like to encourage… (cuts in)
Peterside: Of course, NIMASA would do everything humanly possible to encourage the indigenous players.
DDH: As you know, the essence of Cabotage law is to restrict the business to Nigerians.
Peterside: Very true.
DDH: The record we have had so far is that a lot of the local players are not encouraged as they should be….
Peterside: Everything that is within our power, we will do to encourage local players.
DDH: Are you engaging them?
Peterside: Yes we are.
DDH: Because there is the Nigerian Indigenous Ship Owners Association (NISA) and the last I heard, they were supposed to be working towards lifting crude oil….
Peterside: Am not aware.
DDH: Well, I heard of this amongst the industry operators…
Peterside: Crude oil is outside the Cabotage Law.
DDH: But NIMASA's core mandate is to help Nigeria participation in international shipping. So, there's an expectation that NIMASA should do all in its powers to encourage Nigerians in both Cabotage and Ocean Shipping?
Peterside: We cannot be a jack of all trade, because it's not realistic.
DDH: What role will NIMASA play in the establishment of the national fleet?
Peterside: NIMASA is the agency of government with the responsibility to promote shipping, and so, strictly speaking, establishment of national fleet falls strictly under the purview of NIMASA. It's being driven by our parent ministry, so it has our total support, and we are doing that.
DDH: Will the national fleet, as we have heard, be assisted to lift crude oil?
Peterside: I believe so. Our laws are clear, that if we have a national carrier, they should be given preference in lifting up our cargo, we'll get everybody to comply with the provisions of the law.
DDH: I have this question still on improving the participation of Nigerians in ocean shipping?
Peterside: That is international trade. That's what the national fleet is going to address.
DDH: Is NIMASA going to prequalify our national carriers for this participation?
Peterside: I don't understand what you mean?
DDH: Who amongst Nigerian carriers will NIMASA assist and how?
Peterside: You see, everybody who is interested in buying shares or acquiring shares in the national fleet is free to come forward and acquire shares, you pay your money.
DDH: So it will be a company?
Peterside: Of course, it will be a company. It's not going to be a government thing. It's owned by the private sector. Government is only facilitating it in bringing people together, encouraging people to come together, government is not financing it. Government only plays as a facilitator.
DDH: On another matter, the Minister of Agriculture once complained that his ministry officials went to arrest operators of fishing trawlers and he was alluding to something like an inter-agency clash there.
Peterside: There is no inter-agency clash. In terms of fishing trawlers, it's the responsibility of NIMASA to register the trawlers, but it's the responsibility of the Ministry of Agriculture to regulate deep-sea fishing. So there is no clash, we have our different roles and there is also a law that sets up inter-Ministerial inter-Agency standing committee. So, there is absolutely no clash in it.
DDH: Has there been meetings with the Ministry of Agriculture since the minister raised that issue to address that?
Peterside: Yes, we have had a number of engagements; in fact, the meetings continue.
DDH: How will all zones be encouraged to participate in the National Seafarer Development Programme? Is there any effort to ensure that there is a fair representation?
Peterside: Yes there is. It's a national intervention thing and we have two streams of NSDP program. One, states were encouraged to come forward to support and part-sponsor the candidates from their various states. States were supposed to pay some percentage and NIMASA will match up with some percentage for those set. There is another string where NIMASA funded 100%. But we have put a hold right now on further recruitment of persons into the NSDP program. We are planning for NSDP 3 and until we come out with a holistic concept that is all-inclusive, we can then roll out NSDP 3. Our vision for NSDP 3 is that all parts of Nigeria would be represented in the program. Once we have as many seafarers as we can get and begin to earn foreign exchange, our promise is to do seafaring the way Philippinnes and China do.
DDH: And this is part of human capacity development, just like we have in Nigerian Maritime University? Is NIMASA going to do anything, what is going to happen to it, in view of the political nature it has taken?
Peterside: And I have said there is nothing political about it, government is simply reviewing that initiative, and until government comes out with final position there is nothing anybody can do about it.
DDH: There is this issue about SNEPCO and debt recovery, which made some headlines sometime ago. Is NIMASA's money out there and is it difficult to get it in?
Peterside: Well, we have made our own effort to recover some of the debts that we are been owed and we are not satisfy with the progress we have made. Am not saying that we have not made progress, we have, but am not satisfied. And if there is any time we need money, it's now at a time of recession, we need money. Fewer vessels are calling at our ports, so our revenue is dwindling. So, everything that needs to be done for us to earn more revenue we are going to do it and contribute to the consolidated revenue funds. And part of our strategy is debt recovery. And we truly need help. So engagement of a firm to help us recover our debt is in line with the provision of the law and we passed through every due process to engage the firm. So, I don't think there is an issue.
DDH: How much money are we talking about here?
Peterside: By my own record, we are owed $424 million. But people keep claiming that they have different records.
DDH: Who are the major debtors?
Peterside: Shipping companies, shipping lines and agents.
DDH: But $424m is a lot of money…
Peterside: It's over a period of ten years starting from the time of NMA, not this year, not last year. Some of the firms are no longer operating and that means we cannot recover all, but let's just recover most.
DDH: Let us come to this issue of internal promotions; there is a lot of staffs complaining.
Peterside: This is the first time in many years that we are doing a comprehensive promotion in the Agency. This is the first time we are doing a comprehensive promotion exercise.
DDH: What do you say to somebody who has been waiting for 14 years for example?
Peterside: This promotion exercise will address such problems.
DDH: How does your current engagement in NIMASA enlarge your world view and perception of political leadership in a country like Nigeria?
Peterside: Shipping and maritime business are international in nature and if you are in this industry, you have no option than to engage at the global level. You must certainly see things from a different perspective. Because you must seek to understand their own view, so you are not going to have a narrow view of life. It will definitely enlarge your world view and improve your decisions to better decisions that will appeal to a wider audience.
DDH: Have you benefitted from the experience to add to your political career?
Peterside: Immensely.
DDH: Who is Dakuku Peterside?
Peterside: God-fearing person who is always optimistic that the future will be better than today and who believes that treating people fairly and justly is the best value that anybody can give as a man.
DDH: How do you therefore look at the political situation in River State and what are you going to do about it?
Peterside: It's nauseating. At the appropriate time, all Rivers people will come together and address it. I don't believe that the current government represents the yearnings and aspirations of the Rivers people. A government is supposed to represent who its people are. This does not represent who we are. We are not violent people. We are our brother's keeper. We are very accommodating. We are very liberal but very progressive. The current situation in River State represents the opposite of who we are. And I believe that at the appropriate time, the Rivers people will rise up and enthrone the kind of government they want.
DDH: Are you going back to contest in 2019?
Peterside: I won't say that because we are not there yet. I have a job. My focus now is to deliver on this job