Three months ago, Jeff J. Gosciniak began a major career change in his life when he was appointed as the new managing director of Mediterranean Shipping Company Nigeria Ltd (an agent for the Mediterranean Shipping Company S.A with head office in Geneva). He hit the ground running because he wasn't a greenhorn. In fact, he came over from Easter Europe and prior to that from Ghana where he had worked for Maersk Line.
A youngish-looking man whose mien easily comes across, Jeff packs experiences from far-flung places having worked in Australia, Denmark, Poland and Ghana at various positions and times over the past 21 years, though only for Maersk Line. However, MSC ranks as the second world's largest container carrier while in Nigeria it is the third in rankings by size of market share. During his interaction with DDH, his enthusiasm for the new posting could not be missed, as he spoke passionately of taking the fortunes of the company to a higher level. (See interview below).
An urbane marketing man, Jeff used the occasion of a trade party recently organized by MSC in Lagos for the outgoing managing director, Mr Annil Nayyar, to meet most of the company's customers. As he strolled around the tables, taking in the gist, his networking attitudes clearly showed: he seemed to be gauging the mood of his primary constituency and, as he later told the magazine, came away with the impression that the market still believes in MSC. He is upbeat and raring to go. In this exclusive interview, Jeff speaks of his hopes, aspirations and vision for the market and MSC's place in it. Excerpts:
DDH: What has your career path been like before coming to Lagos Nigeria?

Jeff: I commenced my shipping career in 1991 where, after completing my studies in Australia where I emigrated with my family as a teenager many years ago, I went back to Poland and joined Maersk Line. At that time, Maersk Line was entering into a new markets in Eastern Europe, setting up own shipping offices. My first job was as sales representative and sales development manager, in an office of six people, trying to establish a new company in Poland. My stay in Poland was very good. After three years, I had an opportunity to move back to Australia, as my company then was also starting its business there. That was great opportunity for me to take my newly wedded wife and move back to Melbourne, Australia and continue advancement of my career. And then from there, every three years I had a different job, a different responsibility, adding to what I have learnt and adding to what I can do. And that is how I have spent the last seventeen years. I have been travelling to different parts and doing different jobs. I had the pleasure of working at the headquarters of AP Moller Maersk and a couple of agencies, so I have learnt quite a few things.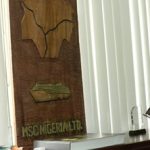 DDH: How do these compare with your present stint in Nigeria?

Jeff: I think Nigeria is similar in some ways to Ghana where I went to and spent three years. This is a country of tremendous opportunity and, in my opinion, great maturity, with every year. If you take snaps of pictures, over time, you would be able to see how things have changed. I have only just arrived but I have heard stories about difficulties, challenges like at the beginning of the year with congestion, delays, frustration. Some of the customers mentioned this to me yesterday. Some are still of the impression that delays are caused by congestion till today. What I see today is investment in equipment, heavy investment, like mobile cranes or RTGs. To me that means there is confidence in the future of this shipping and container terminal business. Business is spending money to lay down infrastructure, corrections to what they see… That is wonderful, a waterfront revolution from the point of view of the people that are responsible for it. And to me, it's better to be part of that, anything we can do as a shipping line to strive to create better products, better services to the importers and exporters of Nigeria. Never forget the exporters. It's common for most people to forget the exporters. We look after both. With the port operators, shipping lines and maybe some of the registered customs, when they do come together, it would be quicker, faster and, at the end of the day, a little bit less expensive. When I go to the shop to buy something, cost of importation are built into the product that am paying for. So, the more is done to reduce costs the greater the benefit for consumers like me and you…..

DDH: From the feedback you got from the customers so far, are you picking anything already, any directions…?

Jeff: In my conversations with customers I am looking for their business confidence. Are they buying more? Are they continually buying? Are they concerned and reserved? Are they slowing down in their business interest? I did not get that feeling, and I feel that there is still a good level of confidence. They still keep high optimism and seriousness about the Nigerian market. I think there is a lot of emphasis now on trying to promote Nigerian exports. This is another great move for Nigerians, to diversify income away from other activities than oil related products. Although we have not seen huge surge in import volumes before Christmas, suggesting a slight slowdown in imports, the confidence I saw in our customers yesterday does not make me nervous.

DDH: What position do you put MSC Nigeria Ltd in today's market and how do you think that will improve soon?

Jeff: I believe that MSC is the third largest market share holder of the shipping activities in Nigeria. At the same time, MSC is number two in the global market as far as the size of the company is concerned. I think it will only be fair to reflect the same position the local Nigerian market. So, clearly my goal right now is to try to steer the company so that we too can meet the global position of being the number two here.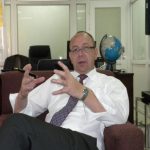 Jeph during the interview at his Lagos office.

DDH: Are there things you experienced in Maersk which you would like to import as a strategy for MSC in Nigeria?

Jeff: I have to be careful with this. What am bringing with me is what I have personally learnt, being given the opportunity with my previous employer. What I do not intend to do is to create a second Maersk inside MSC. MSC is MSC and I respect that a lot. Am here to really embrace the country, embrace the people and make my contribution. What I like to bring to the table is my leadership skills and my wealth of experience. The rest will be done by my staff, by my management team and with the help of our great business partners.

DDH: Do you have any special message for the market and your customers at this time?

Jeff: I would like our clients to give us the opportunity to co-participate in their confidence in shipping by asking them to visit the terminals and see for themselves the investments, see how the terminals are cleaned up. Congestions were often caused by the fact that there were no spaces to move, things have just been basically discharged and stacked into big blocks. Now if we look at the terminal, when we come into Tin Can which belongs to the Sifax Group, and see the fact that they brought in ten TRGs that can stack the containers in an orderly fashion. It created more space automatically, only because he brought in the right equipment. And it changes the whole view of the terminals right now. If you check the aerial views of those terminals today, in the past they would be different but they are not different from any other terminals [around the world]. That's because of the equipment. I really admire the likes of Dr Afolabi who really went with confidence to invest money in buying new equipment. Going forward into 2013, we will have a brand new service linking South Africa port of Coeaga with Tin Can. This is our new product that will bring Asia close or should I say faster to Nigeria. This product is an answer to our clients' feedback that we need to improve it to become more competitive. We will also focus on our own internal workload and processes that we can improve to have more time for customers and that is how we will get better, stronger and hopefully bigger. We need to ask more questions and listen to more of what they, our clients, have to say to us and then act accordingly.
DDH: As per your new arrival in Nigeria, have you sampled the food, the weather, a few places…?

Jeff: I keep comparing the country with Ghana. Weather-wise, of course, this is wet season, so I have woken up to many days and it was sort of, very cloudy sky with a little bit of rain, which means leave early for office, traffic would be heavier. Food is lovely, similar…. spicy soups. They are spicy! (General laughter). And then friendliness of the people, I have to say there is no par. I think when you are outside Nigeria, there are different stories you pick up. Media channels such as CNN, often share sad / bad news saying it's dangerous in Nigeria. I am absolutely pleasantly surprised with the warmth, the openness and the hearty welcoming of the people here. Nigerians smile a lot, somehow abroad, you don't think of that. So, am extremely pleased and very happy to be here and am sure it's going to be a great stay.

DDH: I wish you the best Jeff, the very best indeed.