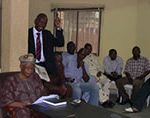 The Changing Dredging Scene
With the current Operation Sandy being tested by the Lagos State Ministry of Waterfront Infrastructure Development in the Ikorodu axis in Lagos, there is surely going to emerge new realities for dredging in the state.
Without doubt, Lagos may be the place with the highest sand need in Nigeria, if not in Africa, today; especially with the development of the World Bank-financed Lagos Mega City project, the Eko Atlantic City and innumerable residential and industrial estates, the proposed Eko Energy City, new roads, airports and seaports cropping up at the vast Lekki peninsula, in Badagry and practically every conceivable part of the Lagos metropolis and suburban areas. Population strength is due, in the next few years, to hit well above 25 million and still rising. Therefore, the need for sand in such a scenario is mind-blowing, but attainable. So everybody in every sector seems primed to get his part right.
In this issue, we focus on the wide-ranging efforts of the Lagos State Government to get it right. Its ministries and agencies in charge of the sector called a press conference recently where they briefed the media on efforts being made by the state government to get it right with regulation of various maritime and marine businesses and civil developments in the sector within the state and they made their concerns known to all and sundry. We have published excerpts of that media outing.
But equally important are the stakeholders in the dredging and sand supply business who are being put to task to prove their legality for the enterprise in the state. We have also covered them extensively in this edition bringing their stories of anguish, shock and despair at what they suspect may be an unfavourable wind about to blow their way.
In the dredging law section, we have tried to capture the constitutional law dispute between the National Inland Waterways Authority and the agencies of the Lagos State Government in charge of regulating inland waterways, minerals and mining. There is no doubt that the judiciary will have a lot of say in the final resolution of all these issues and that this resolution will make a huge change in the overall profile of dredging and sand dealing business in Lagos and Nigeria as a whole.
On another side of the sectoral spectrum – maritime transportation – we bring you, in this edition, a debut of "Local Maritime News Roundup" which will henceforth keep you abreast with the juiciest condensed news digest of all that is fit to print as news within the quarter: Nigerian seaports, concessionaires and customs clearing and forwarding agents; fishing and trawling; developments at the transport ministry parastatals; River Niger dredging updates; etc,.
There is also international dredging and maritime news update; local inter-modal transportation briefs; Niger Delta and oil and gas updates, etc.
Welcome aboard!