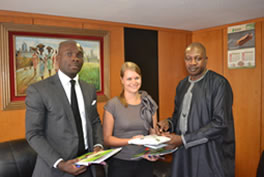 The Nigerian Ports Authority (NPA), will henceforth ensure that neighbouring land-locked countries take delivery of their cargo with ease from Nigerian seaports.
Making this pledge during a courtesy call by a delegation from the Embassy of Finland at Lagos, the managing director of NPA, Engr Omar Suleiman, said that a lot has already been put in place in terms of capacity to ease trans-shipment and the logistics of cargo clearing at Nigerian ports.
According to him, there are ongoing efforts to ensure safety of Nigerian channels through the removal of wrecks and regular capital and maintenance dredging.
He also disclosed that management was working on strategies to ensure the security of port channels, adding that the recent drive towards "deep sea port development is part of efforts being made by the management of NPA to improve capacity and ensure that the vision to be the hub in West and Central Africa is achieved".
In his opening remarks, the head of the delegation Mr. Olu Raheem, while commending the rebranded NPA Journal 'Nigerian Ports Today' which he considered a veritable source of information, said that they were at the NPA to explore ways of collaborating with the authority to improve trade relations with Nigeria.
He said that a trade centre has been opened in Abuja and plans are on to open another one in Lagos.
Engr Suleiman, commenting on the trade facilitation initiative by the government of Finland, revealed that NPA was working with the Nigerian Custom Service (NCS), to ensure fast clearance of cargoes through the development of the one-stop-shop cargo clearance procedure as well as to ensure the early kick-off of the ship tracking system.
In another development, NPA has announced that with effect from July this year, ship-to-ship (STS) transfer of petroleum products or any other cargo would only be allowed at designated points along the nation's waterways.
Under the new arrangement, comprehensive identification and information of such vessels would have to be carried out and such details documented for security reasons.
Speaking during a stakeholders meeting on "Offshore Petroleum Products Ship to Ship and Ship to Rig Operations" which took place at the Rockview Hotel, Apapa in Lagos recently, NPA's General Manager Marine, Capt. Iheanacho Ebubeogu, said NPA would provide designated points in Lagos, Warri, Calabar and Bonny Channels for that purpose, adding that efforts were in top gear to produce a new chart of the port channels to assist management in ensuring strict monitoring of vessels calling at the Nigerian Ports.
According to him Mike Lely, a Mooring agent, has been appointed by NPA to coordinate the activities of ships at such designated locations when the programme starts.
He warned all mooring men who were defiant and were in the habit of breaking the laws to be ready to face stern disciplinary action, adding that NPA was focused on being responsive to the challenges facing the management of the port channels.
Capt. Ebubeogu also disclosed that further to NPA's efforts towards enhancing maritime security, it would soon purchase three security boats which would be deployed to different locations where such services were required.
Thereafter, he said, the organisation would shift its distress and emergency response facilities from Beecroft to a location within Takwa Bay to allow for faster response whenever there were distress calls from mariners and to observe ISPS Codes for safety of shipping in view of Nigeria's 70% dominance of cargo traffic in West African region.
He also said that when the proposed Eko Atlantic City of the Lagos State Government comes on-stream, observatory post would also be built within the area.

In attendance at the meeting were the Assistant General Manager Commercial and Ports Promotion, Mallam U. Othman, Port Manager Delta Port, Mr. Obumneme Onyeweuwa, Port Manager Rivers Port, Dele Alabi and Port Manager Tin Can Island Port, Mr. Ephraim. Also present at the meeting were Manager Offshore Operations of Department of Petroleum Resources (DPR), Mr. Obiaju P.I. and Manager Marine Transportation of the NNPC, Engr. Onwuka Tony and a cross section of mooring agents.