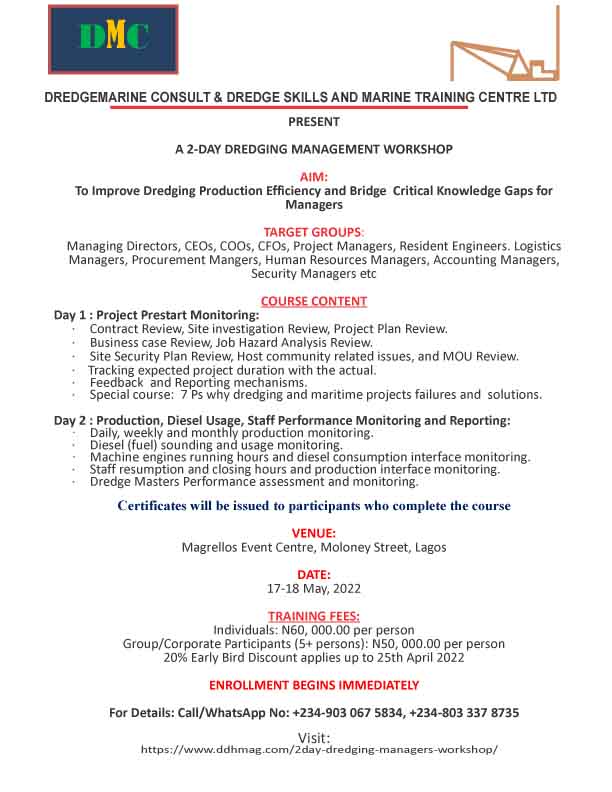 THE TWO DAY DREDGING MANAGEMENT TRAINING
INTRODUCTION
Nigerian Dredging industry is fraught with high levels of inefficiency and incompetence which grossly hamper productivity, safety, quality of service and project delivery, and longevity of indigenous businesses. The lack of effective monitoring and feedback system on the side of corporate management has been identified as one of the limitations hindering successful achievement of dredging and maritime oriented projects. To arrest this pitiable situation, Dredgemarine Consult and Dredge Skills and Marine Training Centre Ltd designed this programme to add value to the management of dredging projects and begin the process of addressing the problems militating against the fortunes of enterprising Nigerians in the dredging sub-sector.
Monitoring and control in project management involve actively reviewing the status of the project as it proceeds, evaluating potential obstacles and implementing necessary changes to safeguard the objective and secure successful milestone deliveries. In other words, it involves:
Managing necessary changes that may come up in the project
Validating and controlling the scope of the project and time line
Controlling project costs and quality of deliverables
Controlling all teams and stakeholders communication, including procurement
Controlling stakeholders engagement
However, in this training we shall focus on critical specific and practical monitoring elements which indeed will reduce or eliminate some of the barriers to projects progress and achievement. The training will serve as a tool of empowerment by which corporate management can remotely monitor the site performance from anywhere at a glance.
COURSE OVERVIEW
The topics are all encompassing and appropriate for improving productivity and profitability.
The course covers:
Dredging project Pre-start Monitoring:

Site investigation review

HSE/Job Hazard Analysis review

Site security plan review

Community related issues and MOU review
Daily, weekly and monthly production monitoring
Diesel (fuel) sounding and usage monitoring
Machine engines running hours and diesel consumption interface monitoring
Staff resumption and closing hours and production interface monitoring
Dredge Masters Performance assessment and monitoring
Tracking expected project duration with the actual
Feedback system: Reporting mechanisms
A Special topic on the 7 Ps why dredging and maritime projects fail and associated practical solutions
DURATION: 2 Days
VENUE: Magrellos Event Centre, Moloney Street, Lagos, Near Tafawa Balewa Square.
COURSE OBJECTIVES
Most of the failures being experienced in projects delivery are because of lackadaisical attitude of the management towards basic project issues. These eventually grow to wreck the projects. However, the central objective of this training is to create a new workplace culture for proactive full participation of corporate management in the day-to-day activities of dredging and maritime projects especially for starters with few fleet and few projects. It is also important for major and big time players. The expected results are as follows:
Increase in production
Proactive response to site maintenance and other issues
Diesel usage maximization resulting in profitability
Meeting project timelines, quality, cost and customers'/clients' expectation
On-time restocking of inventory like diesel, etc. to avoid unnecessary downtime
Enhanced crew performance since they are aware of the management watch over them
Creating the sense of ownership among the crew and risk reduction
TRAINING METHODOGY
The training course will utilize a variety of proven adult training techniques to ensure maximum understanding, comprehension and retention of the information presented. This includes the use of Powerpoint presentations and discussions for the seminars. Questions are encouraged throughout, particularly at the daily wrap up sessions. This provides opportunities for participants to discuss with experienced resource persons on specific issues to attain appropriate solutions. Specific goals of participants will be discussed to ensure that their needs are fulfilled.
TRAINING EVALUATION
Evaluation method for the course shall be in two phases involving:
Phase 1: Enough time for interactive question and answer sessions based on different project scenarios experience d by the participants.
Phase 2: This involves gauging the reaction from the participants regarding the performance of our trainers. To achieve this, a course evaluation form or questionnaire shall be administered to the trainees for the purpose of assessing of each of the trainers with respect to their knowledge in their subject area/course, their quality of delivery, the course contents and ability to disseminate knowledge, etc. This will help us to improve in our service delivery.
        TRAINING PROGRAM SCHEDULE: 2 DAYS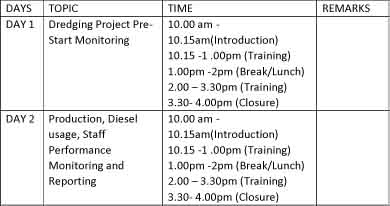 TRAINING FEE
Individual Participants N60, 000.00 per person
Group and Corporate Participants (5 or more persons) N50,000.00 per person
20% Early Bird Discount applies up to 25th April 2022
PAYMENT DETAILS AND REGISTRATION PROCEDURES
BANK: FCMB
ACCOUNT NAME: IFYNGEL GLOBAL RESOURCES
ACCOUNT NO: 6106797012
Email payment tellers/receipts to dredgeskills@gmail.com to complete the participant registration procedures.
RESOURCE PERSONS AND ORGANISERS
Engr. Ibeh Emmanuel
Emmanuel Ibeh is equipped with over 25years post graduate experience significantly in Industrial, Marine and Dredging services having worked with reputable companies like Shell Petroleum Development Company, and West African Oil field Services (Marine division). He pioneered and managed B&Q Dredging Ltd (Nestoil Group Dredging Subsidiary) and worked as Operation Manager and later Technical Manager with Destiny Dredgers International Ltd. He is currently Executive Director, Micrench Global Resources Ltd and Chief Trainer, DredgeMarine Consult (a subsidiary of Ifyngel Global Resources, Port Harcourt).
Dr. Chilaka Edmund
Edmund Chilaka lectures Maritime Transport and Logistics at The University of Lagos Centre for Multimodal Transport Studies and the Institute of Maritime Studies. He has a Ph.D. in maritime history and author of The Rise, Fall and Liquidation of Africa's Pioneer Carriers: Nigerian National Shipping Line and Black Star Line. Dr. Chilaka is also the Editor-in-Chief of Dredge Drill & Haul magazine (www.ddhmag.com) and the National Coordinator of the annual Nigerian Dredging Summit and Exhibition since 2007. His other works and research interests in maritime history, inland waterway transportation, maritime security, transport and logistics and dredging studies can be found online at https://lasunigeria.academia.edu/EdmundChilaka
Mr. Daniel Udemezue
Daniel Udemezue is a Harvard-trained Business Strategist and dredge enthusiast. He graduated from Ahmadu Bello University with a B.Sc in Geology and a Master's in Business Administration(Finance and Investment) as well as a Masters degree in Process Engineering from the University of Lagos. He holds other diplomas and certificates including Diploma in Operations Management, Diploma in Business and Legal Studies, membership of the Council of Nigerian Mining Engineers and Geoscientists, Dredging Certificate in beach nourishment and wetland restoration from SunCam and IHC Holland Technical Certificates. He is a Certified Project Director and resource person in various training seminars.
Engr. Wale Akinnayo
Mr. Okey Azubuike